Chinese envoy says Sri Lanka is 'unfair' to term Chinese loans as expensive
Posted by Editor on November 2, 2016 - 11:50 am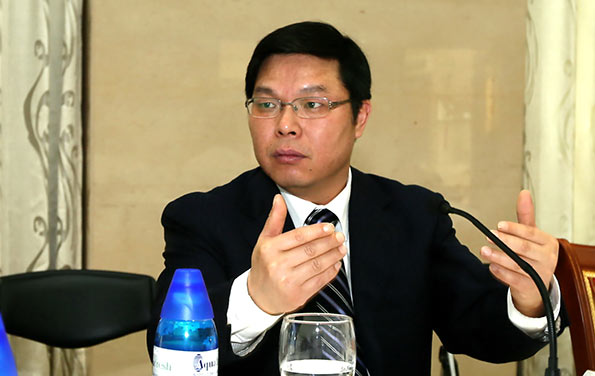 China's Ambassador to Sri Lanka, Yi Xianliang, on Tuesday, said it was unfair for Sri Lanka to term loans given by China's EXIM Bank as 'expensive' and questioned the government as to why it had sought fresh loans from China if the interest rates were 'too high'.
"I have noted that some media and ministers have termed these loans as expensive. As you know we maintain a regular interest rate of 2 percent, not only for Sri Lanka,"
"I have already spoken to Ravi Karunanayake, Sri Lanka's Finance Minister. I know he has criticized this issue many times, publicly. All the Chinese business people complain to the Chinese government as to why loans are given to other countries at 2 percent. For them it is atleast 5 percent. So this is really unfair for Sri Lanka to call these rates expensive," the Ambassador said.
Sri Lanka's previous government, headed by Mahinda Rajapaksa who was dubbed as a pro-China ally, borrowed millions of dollars from China's EXIM Bank and other lenders for development projects. However the present government, who is facing a debt crisis due to the large borrowings by the Rajapaksa regime, especially for projects which have not generated any profit, is now renegotiating the loan terms with China.
Relations between China and Sri Lanka were strained when the new government of President Maithripala Sirisena was sworn in last year, as Sirisena had suspended many Chinese projects started by Rajapaksa, citing corruption.
This included a mega 1.4 billion dollar Port City Project, now known as the Colombo International Financial City.
After obtaining the necessary environmental permits and changing the original agreement, the project was given a nod in March this year. The project formally resumed on Oct 29, with Ambassador Xianliang stating that the Chinese investor was burdened with a loss of 1 million dollars per day due to the suspension of the project. The total loss incurred for the 1.5 year suspension is 140 million dollars.
However due to the close ties shared between China and Sri Lanka, the Chinese investor had dropped its compensation claims from the Sri Lankan government, Xianliang said.
China which held a tight grip over the island nation during the Rajapakse period, has over the year's become Sri Lanka's largest Foreign Direct Investor. According to the the Chinese Ambassador, China has completed infrastructure construction projects worth 15.5 billion US dollars in Sri Lanka by the end of 2015.
China also has direct investments of 409 million US dollars, which is increasing rapidly.
In addition, China has also largely contributed to Sri Lanka's Tourism industry which suffered a severe blow due to the 30 year civil conflict. Statistics showed that nearly 200,000 Chinese tourists traveled to Sri Lanka from Jan to Aug 2016.
Following China's development contribution to Sri Lanka, the Chinese Ambassador said that the Sri Lankan public and the government should have a more 'thankful attitude' towards China
"For a long time, we have supported and assisted Sri Lanka in international forums and bilateral business fields. We did nothing to damage Sri Lanka's interests. But the media always have some negative reports without facts. We are willing to accept criticism if its based on true facts."
Speaking further on the loans provided by China's EXIM Bank to Sri Lanka, the Chinese envoy said that his country had conducted serious assessments on these loans granted and these loans were granted to improve the country's infrastructure as infrastructure was crucial for social and economic development.
He stressed that an interest rate of 2 percent interest was very low. Ambassador Xianliang further said that China and Sri Lanka shared strong relations and said that both countries should respect each other.
"We insist on zero intervention in the internal affairs of any country. These are the international rules described in the UN Charter. We have no hidden agenda here, our system is very transparent."
The Ambassador further dismissed allegations that Chinese companies involved in mega development projects were involved in bribery in Sri Lanka.
"We have agreements and contracts which were checked by the Attorney General, the Sri Lankan Cabinet, the Sri Lanka Parliament. If there are any bribery allegations against Chinese companies, China will of course punish those people involved."
"Three years ago, China, initiated a movement to combat bribery and corruption. I do believe that Sri Lanka's political situation should not be linked to China's cooperation and assistance. If you talk about Chinese projects in Sri Lanka, some media automatically link it to bribery. All the Chinese big companies involved in projects in Sri Lanka are state owned.
They must follow the strict rules set by China. They also have to follow the law here."
Meanwhile, the Chinese Envoy said that Sri Lanka can attract up to 5 billion dollars worth of Chinese investments in the coming 3 to 5 years if it maintains a clear and consistent business policy.
He said both countries were discussing a FTA and the next round of talks would be held in China this month.
He further said that to attract more foreign investments including those from China, investments promotion policies, management system and legal system were expected to be further improved in Sri Lanka.
(Source: Newsin Asia)
Latest Headlines in Sri Lanka