Chinese submarine docks in Sri Lanka despite Indian concerns
Posted by Editor on November 3, 2014 - 7:58 am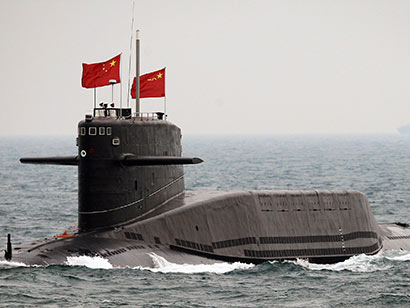 Sri Lanka has allowed a Chinese submarine and a warship to dock at its port in the capital Colombo, officials said on Sunday, despite concerns raised by India about China's warming relations with the Indian Ocean island nation.
Submarine Changzheng-2 and warship Chang Xing Dao arrived at the port on Friday, seven weeks after another Chinese submarine, a long-range deployment patrol, had called at the same port ahead of a visit to South Asia by Chinese President Xi Jinping.
"A submarine and a warship have docked at Colombo harbour. They called on Oct. 31 and will be here for five days for refuelling and crew refreshment," Sri Lankan navy spokesman Kosala Warnakulasuriya said.
"This is nothing unusual. Since 2010, 230 warships have called at Colombo port from various countries on goodwill visits and for refuelling and crew refreshment."
However, the frequency of Chinese visits has become a concern for New Delhi, Indian officials have told Reuters.
"India has raised concerns over this but not aggressively," an Indian official familiar with diplomatic discussions between the neighbours told Reuters.
China has invested heavily in Sri Lanka in recent years, funding airports, roads, railways and ports, a development that has unsettled India, traditionally the closest economic partner of the island nation of 21 million people.
India has already raised concerns over an aircraft maintenance facility following speculation it could be built in the eastern port city of Trincomalee, which India considers a strategic location in national security terms.
R. Hariharan, a retired colonel from the Indian army and an associate at the Chennai Centre for China Studies, said India was concerned about the latest docking of a Chinese submarine at a Sri Lankan port for many reasons.
"For the first time, Chinese submarines are being made part of the PLA (the People's Liberation Army) in the Indian Ocean Region fleet operation in the Gulf of Aden on anti-piracy, which is not a common practice," he told Reuters.
A 1987 accord between India and Sri Lanka provides that respective territories – including Trincomalee – will not be used for activities prejudicial to each other's unity, integrity and security.
(Reuters)
Latest Headlines in Sri Lanka