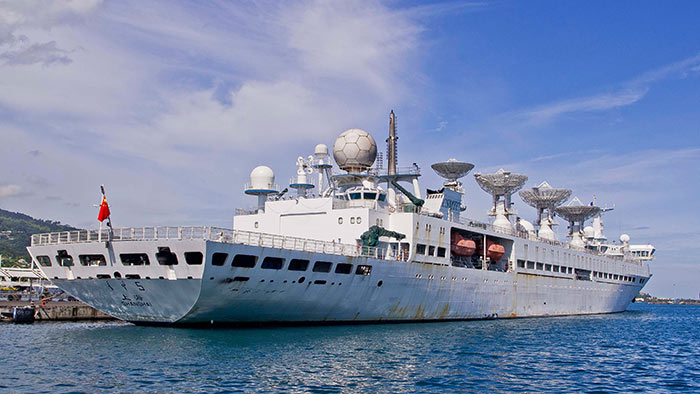 The Yuan Wang 5 is one of China's latest generation survey vessels that officially entered Port of Hambantota in Sri Lanka today (August 16).
It  will remain there for seven days for replenishment purposes.
Sri Lanka granted permission for the high-tech Chinese tracking vessel Yuan Wang 5 to dock at the Hambantota Port in a backdrop marred with controversy.
Diplomatic clearance for the Chinese vessel to make a port call at the Hambantota port from 11-17 August​,​ 2022 for replenishment purposes was granted by the Sri Lankan Ministry of Foreing Affairs, however due to concerns raised by various factions including India, the Ministry requested China to defer the visit of the said vessel to the Hambantota port.
However, the Ministry of Foreign Affairs did not provide any reason for the request.
When the request to defer the visit of the vessel was made, the Yuan Wang 5 had already set sail to Sri Lanka leaving its port of origin on the 14th of July, and it was already in the Indian Ocean.
The vessel thereafter slowed down and moved over the Ninety East Ridge, a mid-ocean ridge on the Indian Ocean floor named for its near-parallel strike along the 90th meridian at the centre of the Eastern Hemisphere.
Upon entering the Sea of Sri Lanka on Monday (August 15) evening the Yuan Wang 5 must comply with the conditions of maintaining its unique vessel identifier, and refrain from conducting any form of research and survey activity in the Sea of Sri Lanka.
Yuan Wang 5 is a third-generation tracking ship of the Yuan Wang Series. It has top-of-the-line antennas and electronic equipment to track ballistic missiles and satellites.
The Chinese Research Vessel fleet boats of twin vessels identified as Yuan Wang 5 and Yuan Wang 6.