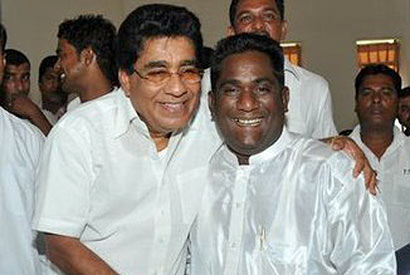 Investigations into the killing of a Kelaniya Pradeshiya Sabha UPFA member on Saturday night had been handed over to the Criminal Investigations Department (CID) yesterday, Police spokesman SSP Prishantha Jayakody said.
He said that no one had been arrested in connection with the incident so far.
A masked motorcyclist shot dead Kelaniya Pradeshiya Sabha ruling party member Hasitha Madawala near his house at Waragoda.
He was a close associate of Kelaniya PS Chairman Prasanna Ranaweera, who is at loggerheads with SLFP Kelaniya organiser Minister Mervyn Silva.
After shooting Madawala, the killer had fired into the air before he left the scene, eyewitnesses told the police.
Madawala succumbed to injuries prior to admission to the National Hospital.Contacted for comment, Minister Mervyn Silva said that he had no connection with the murder of PS member Madawala.
"Several times, some people pointed the figure at me for some incidents," Minister de Silva said, adding that all such allegations had been proved wrong.
He said when former minister Lalith Athulathmudali was assassinated, most of the people pointed the finger at President R. Premadasa. "But what happened later?" he asked.
Minister Silva said he condemned all killings as a pure Buddhist and conveyed his condolences to slain PS member's family.
Courtesy: The Island