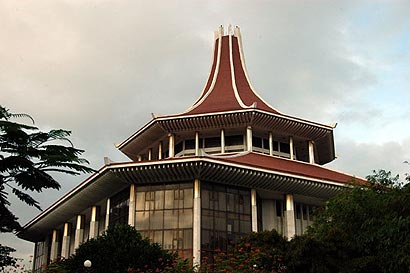 Daily News – By Sarath MALALASEKERA
The Supreme Court will communicate its decision regarding the Constitutional changes to the President and Speaker today, September 1, 2010.
The Bench comprising Justice Dr. Shirani A. Bandaranayake (President), Justice K. Sripavan, Justice P. A. Ratnayake PC, Justice S. I. Imam and Justice Suresh Chandra directed Attorney General President's Counsel Mohan Pieris and the other Counsel who appeared for several other parties to submit their written submissions before 10 a.m. today, September 1, 2010.
The main Constitutional changes are the removal of the two term restriction on the Presidency, reorganization of the Independent Commissions under the 17th Amendment and enabling the President to sit in Parliament, once in three months.
Senior Attorneys Jayampathi Wickremaratne and Saliya Peiris appeared for several other parties.