Continuation of US-Lanka ties underscored: Prabha, Osama – world's most ruthless terrorists; US Assistant Secretary of State Robert O'Blake:
Posted by Editor on May 5, 2011 - 5:53 am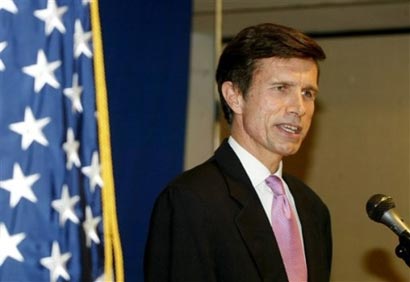 US Assistant Secretary of State Robert O'Blake yesterday declared that Velupillai Prabhakaran and Osama bin Laden were two of the most ruthless terrorist leaders the world has ever known.
'Prabhakaran's LTTE was one of the most ruthless terrorist organizations in the world.
'They are the two most ruthless terrorist leaders in history, he said of Prabhakaran and Osama Bin Laden while addressing the media in Colombo yesterday. Blake also said the US had continually supported Sri Lanka to cripple the LTTE terror network.
He also debunked reports of the US's alleged support for a regime 'change' in Sri Lanka.
"In my official meetings today I assured the Sri Lankan government that the US is committed to a strong long-term partnership with Sri Lanka and that reports of our alleged support for a 'regime change' have no basis whatsoever," Blake said.
He said he expressed support for the government's efforts to recover from its devastating civil war and encouraged further steps towards reconciliation and a peaceful, united democratic Sri Lanka.
Earlier Blake met with Defence Secretary Gotabhaya Rajapaksa, External Affairs Minister Prof. G. L. Peiris, members of the Opposition and representatives of civil society. 'I think the government has made some positive progress and it is very important that this progress be sustained, the US embassy quoted Blake as saying, in an official release it issued to the media. It quoted him as pointing out that the Lessons Learnt and Reconciliation Commission was playing an important role in the reconciliation process.
The commission has heard testimony from Sri Lankans from all regions and ethnic backgrounds. It has provided a forum for individuals to bring injustices to light and to express the personal tragedy and hardship created by the war, the release added.
On the resettlement process he said, nearly all of the 300,000 IDPs have been resettled from the camps with the remaining scheduled to be resettled by the end of 2011, if not sooner.
On the demining process he said the military, with assistance from several international demining organizations, and support from the U.S. government, has cleared over 5 million square meters of mine-infested land throughout the northern provinces of Sri Lanka. "Completion of demining in Mullaitivu will allow most of the remaining IDPs to be resettled," he added.
The Sri Lankan government has reduced the number of High Security Zones, further helping Sri Lankans affected by the conflict to return to their homes and livelihoods, he further said.
The release quotes Blake as also saying, the government and Tamil National Alliance had conducted several rounds of talks with another round scheduled on May 12. "I expressed our hope that these talks can result in a comprehensive agreement that can help Sri Lanka heal the wounds of war and ensure that all Sri Lankans enjoy equal rights and a future of hope and opportunity," he said.
He noted: "I am encouraged that External Affairs Minister Peiris will communicate soon with the UN Secretary General and by his statement that Sri Lanka wants cordial relations with the Secretary General and his team".
On the death of Bin Laden he noted, "I accepted the congratulations of the government for the death of Osama Bin Laden. His defeat is a victory for the United States and for all human beings who seek to live in peace, security, and dignity. His demise will ultimately make the world a safer place".
He said that he also had the chance to visit Kilinochchi and Mullaitivu for the first time. "Both of those places were still under LTTE rule during my tenure as ambassador, so I was particularly heartened to see the progress and development that has occurred there, and the results of some U.S. assistance programs".
During his visit he said that he had the chance to hear of the progress of demining programs funded by US in Kilinochchi and to meet with students who are now back in school as a result of the demining. "I participated in a ceremony in Kilinochchi where we distributed 4,000 water pumps to formerly displaced families. Those pumps will help over 17,000 families earn a living on their farms," he added.
Courtesy: Daily News
Latest Headlines in Sri Lanka