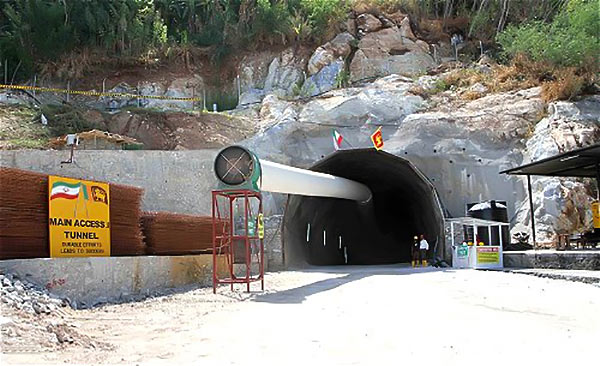 The Government is to consider the suspension of the controversial Uma Oya multi-purpose Development project in the Uva Province.
The decision is to be taken based on recommendations by a joint team consisting of Sri Lankan and foreign experts who will be assigned to study the extent of the damage and the possible remedial action.
The Government's position regarding the future of the project was conveyed by President Maithripala Sirisen on Friday evening to a delegation including Buddhist monks from the affected areas in Bandarawela and Badulla. Associated at the discussions were five cabinet ministers and the chief minister for the province.
Minister Harin Fernando who also took part said the President explained to the delegation that Norwegian and German experts would be arriving in the country on August 1 to begin a study of the damage already caused and the impact of continuing the project. He said a suspension would be considered until remedial action was taken. The project costing more than US$ 529 million was started by the previous government. More than 80 percent of the project has already been completed. It includes a 20 km underground tunnel, which has already caused damage to an estimated 7,000 houses and dried up wells and waterways.
The President has directed a ministerial delegation and officials to go to the affected areas tomorrow and provide relief to residents. This would include drinking water, compensation for damaged houses and loss of income. The National Building Research Organisation (NBRO) has been advised to inspect and determine the evacuation of persons from certain houses.
The President assured the delegation that the Government would review the earlier Environmental Impact Assessment (EIA) report and also allegation of corruption. The move came after villagers on Wednesday staged a massive protest in Bandarawela and the President in a strong speech said he was fully with the affected people and had himself opposed the project when it was started during the previous regime.
(Source: The Sunday Times)