Corruption cases to be revisited by new Justice Minister, says Rajitha
Posted by Editor on August 24, 2017 - 7:21 am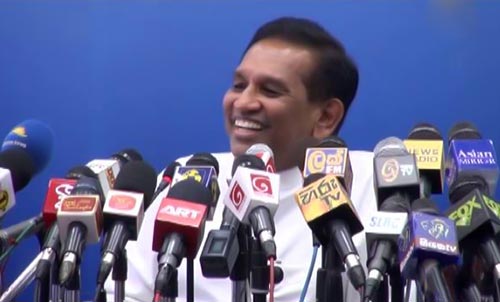 Cases filed against bigwigs of the previous regime may be refiled under fresh charges with the appointment of the new Justice Minister, Cabinet Co-spokesperson Rajitha Senaratne said yesterday.
Pointing out shortcomings in some of the cases that have already been filed, Senaratne said that some of the cases may be refiled under different laws.
"There is a problem such as this. The Avant Garde case is likely to be filed again under a weapons ordinance, which is currently under the Money Laundering Act because that can be given bail. Once the new Justice Minister is appointed we can hold a proper inquiry. We will be able to find out who influenced the case when we have the inquiry," he said.
"Any case can be revisited. So we will push for this."
Former Justice Minister Wijeyadasa Rajapakshe, who was forced to resign from his portfolio yesterday, may be able to make a Marapana-style comeback if he was "rehabilitated", Senaratne said.
"The current Foreign Minister also had to resign earlier over the same case – the Avant Garde case. Now he has been rehabilitated. When time goes, if he rehabilitates we can reconsider reinstating him," Senaratne said.
However, he said that the Government will not make any changes in the cadre of the institutions responsible for carrying out these investigations.
Cabinet Co-spokesperson Gayantha Karunathilaka stressed that the Justice Minister was dismissed for breaching the collective responsibility of Cabinet. Rajapakshe openly criticised the decision of the Government to lease the Hambantota Port to a Chinese party.
"The party's working committee discussed this with him and after discussions with the Chairman of the party, Rajapakshe promised to take corrective action. The decision to remove him is because he failed to carry out this promise," he said.
"We consider this mistake a breach committed by a Minister not an individual," Karunathilaka stated.
However, the Sri Lanka Freedom Party distanced itself from the dismissal, saying that it was an internal matter of the party.
"This is a problem within their party. The UNP party leadership has decided to take action so we will not interfere in the matter. Further, the UNP is a partner in the Coalition Government so the SLFP decided not to get involved," said Cabinet Co-spokesperson Dayasiri Jayasekara.
When asked if his party would take action against Minister Susil Premajayantha, who has also publicly criticised a number of Cabinet decisions, Jayasekara said that such a discussion had not happened in the party yet.
"We will discuss this in the future and the President can decide later," he said.
(Source: Daily FT)
Latest Headlines in Sri Lanka