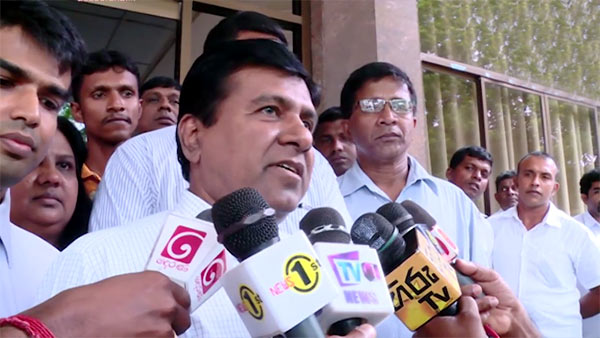 Former Minister of Justice and Buddha Sasana, Wijeyadasa Rajapakshe stated that he was ashamed that he had to be a part of a cabinet of ministers that was selling off the country's treasures.
He stated that he had been removed from his post based on an accusation different to that directed at every single Justice Minister in the history of Sri Lanka.
According to the Minister, every single Justice Minister had been accused of exerting pressure on the judiciary and the Attorney-General's Department, whereas he had been accused of just the opposite; not pressuring the judiciary and the Attorney-General's Department.
The former Minister expressed these sentiments upon addressing the media, following the President's approval of the United National Party's (UNP's) letter requesting his removal from his ministerial portfolio yesterday (23).
Rajapakshe also stated that the cabinet was in violation of the Constitution of Sri Lanka, and elaborated that Article 157 of the Constitution dictated that agreements such as the Hambantota Port Deal must be approved by a two-thirds majority of the Parliament. He further said that a group of individuals had paved the way for his current situation upon being angered by the revelation of the aforementioned fact.
I am now speaking in this manner as an ousted minister, he said.
The former Minister also stated that the truth about major corruption issues such as the Central Bank's bond scandal were now coming to light before the Presidential Commission of Inquiry, and that the masterminds behind the large-scale corruptions were now shaking in fear, as they would also be caught before long.
He then stated that he preserved the Attorney-General's Department's independence even in such a context, and that the backbone of the Department had thus been broken in half in order to appoint someone who would help bury the truth about corrupt, unlawful acts.
He proceeded to say that the present Government was attempting to use him as a scapegoat by spreading rumours of a relationship with the previous Rajapaksa regime.
He also pointed out that in every single instance such as the sales of the Insurance Company, Apollo Hospital, acres of the Colombo Port and other valuable treasures of the country, he had been at the forefront of the struggle to re-acquire them through the law.
He said that his name hadalso  been drawn into the Avant Garde case under various claims, and added that if the case was being heard properly, even the present Defense Secretary would have to be arrested. He further revealed that over 500 firearms belonging to the Sri Lanka Navy were being stored there unlawfully.
In conclusion, he clarified to the media that he had in fact been ousted and that he did not resign, and added that he would announce his future march in time to come, until which, he would operate independently.
(Ada Derana)