Couldn't win the war without China's help – SF
Posted by Editor on September 7, 2015 - 8:22 am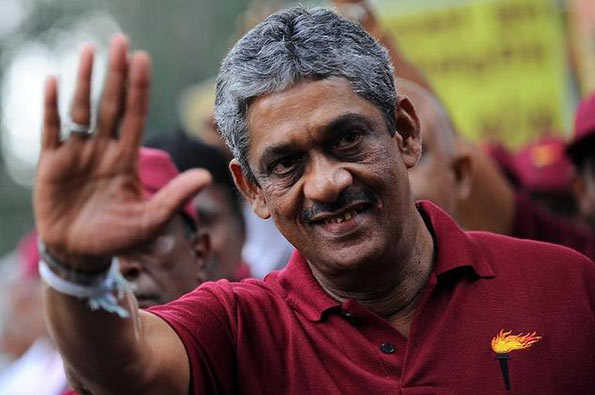 Sri Lanka will maintain the close relationship with China that provided strong support to help Sri Lanka end its 30-year civil war with the Tamil Tiger rebels in May 2009, a leading military officer has said.
"Without China's support we would have not been able to finish the war, basically," Field Marshall Sarath Fonseka has told the Xinhua news agency.
China is one of Sri Lanka's oldest and strongest friends and the nation provided assistance and support to end the civil conflict, said Fonseka, who took the post of army commander in 2005 and led the island nation's forces to conduct victorious campaigns against the Tamil Tiger rebels ending the civil war.
"With China we have had a historic relationship. So I think we must maintain that relationship and we will not forget what China has done for our country," Fonseka said.
Fonseka also made some comments on the military parade China held on Thursday in Beijing to commemorate the 70th anniversary of the victory in the Chinese People's War of Resistance against Japanese Aggression and the World Anti-Fascist War.
"We appreciate the historic achievements of China and the present state of affairs in China. We admire them and appreciate them and wish them good luck."
Fonseka noted that the Chinese military, which has a great history, has been a well recognized and powerful force and has created an important impact in the world. Fonseka was promoted to the rank of Field Marshall by President Maithripala Sirisena in March this year for his service rendered to the nation for defeating terrorism.
He also called on the new Sri Lankan government which won a parliamentary election last month to strengthen relations with the international community and maintain harmony with countries in the region.
"Sri Lanka has maintained a nonaligned policy in its foreign relations with the rest of the world. But of course we have to ensure that there is regional stability. We have to maintain harmony with the rest of the countries in the region. We have to recognize the ability and status of the countries in the region. We are still a small country. We have to go a long way," he said.
(Xinhua)
Latest Headlines in Sri Lanka