Count on Uganda's continuing support
Posted by Editor on November 14, 2012 - 9:49 am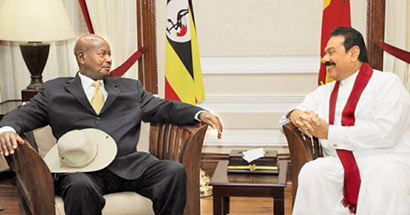 Sri Lanka and Uganda look forward to enhancing bilateral trade between the two countries, with potential for a significant increase in many sectors.
During bilateral discussions with Ugandan President Gen. Yoveri Kaguta Museveni at the Presidential Secretariat in Colombo this morning President Mahinda Rajapaksa pointed out the need to significantly enhance trade between the two countries.
Sri Lanka has a vibrant private sector and we welcome them to participate in investment in Uganda, which is rich in mineral and other natural resources, President Museveni said.
"After 30 year conflict, Sri Lanka is finally enjoying durable peace and political stability," President Rajapaksa said adding that Sri Lanka overcame the most ruthless terrorist outfit in the world in 2009, which assassinated democratic leaders of Sinhala, Tamil and Muslim people.
"They killed a President of Sri Lanka and a Prime Minister of India," President Rajapaksa added.
President Rajapaksa appreciated the support extended to Sri Lanka by Uganda in the international fora, particularly at the UN Human Rights Council and pre-CHOGM Foreign Minister's meeting in Perth last year.
The Ugandan President congratulating President Rajapaksa for bringing peace to Sri Lanka said those alleging human rights violations in Sri Lanka talk without proper understanding and were superficial.
"We will continue to support for Sri Lanka at international fora, he said.
Pointing out that there are three mini hydro power projects in Uganda run by Sri Lankan investors, President Museveni sought more Sri Lankan investment and expertise to set up further hydro power projects in his country.
He also expressed willingness to share Sri Lanka's knowledge and experience in the apparel sector, and was looking forward to seeing the development in this sector.
President Rajapaksa said Sri Lanka is happy to assist Uganda in developing human resources through establishing a vocational training and technical training institute in Uganda.
"We have allocated over USD 1 million to carry out renovation and do other infrastructure facilities. We will also upgrade your trainers," he said.
The two leaders also discussed air connectivity between the two countries.
President accepted the proposal made by the Ugandan President to open a Sri Lankan mission in Uganda .
President Museveni looks forward to visit Sri Lanka at the next CHOGM in 2013.
Following bilateral discussions, five agreements covering technical training, economic, commercial and technical cooperation, tourism cooperation, bilateral political consultation and culture between Sri Lanka and Uganda were signed by International Monetary Co-operation Senior Minister and the Finance and Planning Deputy Minister Dr. Sarath Amunugama, External Affairs Minister Prof. G. L. Peiris, Culture and Arts Minister T. B. Ekanayake and First Lady and Minister of Karamoja Affairs Janet Kataha Museveni respectively.
Courtesy: Daily News
Latest Headlines in Sri Lanka