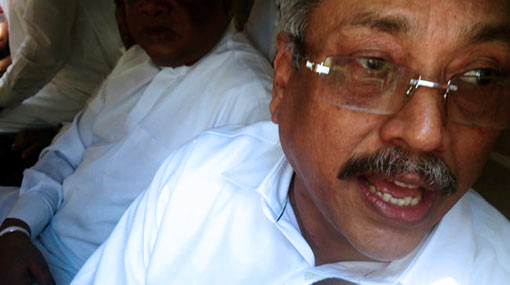 Three persons including former Defence Secretary Gotabaya Rajapaksa, who had been banned by Court from travelling abroad due to investigations being carried out in connection with the floating armoury in the Galle Harbour, were yesterday allowed permission by the  Chief Magistrate of Galle Nilupuli Lankapura to go overseas for a period of one month.
The Magistrate granted permission subsequent to considering a motion which had been submitted by these persons.
Gotabaya Rajapaksa has been granted permission to travel abroad from 20 August to 19 September and the former Additional Secretary to the Defence Ministry Sujatha Damayanthi Jayaratne has been allowed to travel overseas from 24 August to 24 September and former Director of the Avant Garde Company has been permitted to go abroad from 17 August to 17 September.
The floating armoury was discovered at the Galle Harbour on 18 January and the case was handed over to the Criminal Investigation Department (CID) for further investigation.
According to facts submitted in Court by the CID, an injunction preventing these three persons from travelling abroad had been issued on 2 February.
The Magistrate also ordered them to report to the Court subsequent to their return to the island.
(Ceylon Today)