Court orders Duminda Silva's arrest
Posted by Editor on November 15, 2011 - 4:43 pm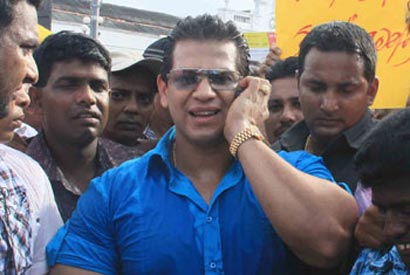 Colombo Magistrate's Court today ordered the Criminal Investigations Department (CID) that MP Duminda Silva be arrested and produced before court, over the killing of former MP Baratha Lakshman Premachandra in the Mulleriyawa shooting incident.
Attorney-at-Law Ajith Pathirana, who is appearing on behalf of Premachandra's relatives, said that Duminda Silva was named as a suspect in the incident as requested from court.
The list of suspects had been submitted today, when the case was taken up, after the report on evidence was presented to court.
R. Duminda Silva had not been included in the list which contained the names of fifteen (15) suspects, Ajith Pathirana stated.
The Colombo Magistrate's Court which then obliged to the request that Duminda Silva is named as a suspect, had ordered his arrest and that he be produced before court.
Four individuals, including the Presidential Adviser Lakshman Premachandra, were killed while Duminda Silva was also critically wounded and hospitalized following the shooting incident on Election Day (Oct. 8) at Mulleriyawa.
Silva was discharged from the Sri Jayawardenapura hospital and taken to Singapore for further medical treatment on September 31 while his doctors had stated that the Parliamentarian's condition has greatly improved.
A Police Constable who was serving as a security officer for MP Duminda Silva had been arrested and remanded after being identified as the person who shot former MP Premachandra.
The investigation into the shooting had been handed over to the CID.
Courtesy: Ada Derana
Latest Headlines in Sri Lanka