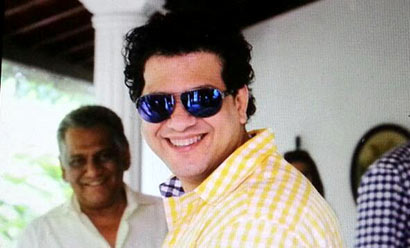 The Magistrate inquiring the non summary trial against Parliamentarian Duminda Silva and thirteen others over the killing of former Presidential advisor Bharatha Lakshman Premachandra and three others at Mulleriyawa on October 8, 2011 observed that calling for a panel of medical specialists to determine the condition of Mr. Silva's health was unnecessary.
Additional Magistrate Priyantha Liyanage made this observation after considering the submissions made by the counsels for Mr. Premachandra's wife and for Mr. Silva.
Counsel Upul Jayasuriya who watched the interests of the wife of Mr. Premachandra submitted that the preceding Judge Mr. Sandun Vithana had made a direction on the JMO of Colombo to examine Mr. Silva's health condition to find whether Mr. Silva was fit to attend court and face trial.
The counsel argued to appoint a panel in the interest of justice to accommodate the JMO's order. He also said that the counsel for Mr. Silva had repeatedly submitted in court that Mr. Silva's brain was seriously damaged and he could not remember anything that happened, and Mr. Silva was not physically fit enough to attend court. He said it was also stated that if Mr. Silva was exposed in public there was a tendency for his illness to become chronic and susceptible to infection, due to germs entering through the wounds in his brain.
However, he said the very next day Mr. Silva was granted bail by the High Court and he walked out from the hospital and made speeches to the media. Counsel Jayasuriya said justice done should be equal to everyone.  Accordingly, he asked court to order the examination of Mr. Silva by the JMO and file a report in court on the observations.
He noted that although the JMO had suggested the appointment of a panel of doctors consisting of specialists to examine Mr. Silva to decide whether he was fit to attend court, the suggestion had not yet been implemented. Thus, he asked court to order the appointment of a panel of doctors consisting of a neuro-surgeon and an anaesthetist to examine Mr. Silva.
Counsel Hemantha Warnakulasuriya PC appearing for the eleventh suspect Mr. Duminda Silva objected to Counsel Jayasuriya and submitted that the preceding Magistrate made that order to the JMO because at that stage the counsel for Mrs. Premachandra had made a request from court to obtain a report from the JMO, since Mr. Silva was not present in court due to his illness, and therefore to ascertain whether Mr. Silva was fit to attend court.
He said Mr. Silva who was granted bail by the High Court attended court on Monday and now that Mr. Silva was of sound mind he would answer the questions asked of him. Therefore, he said at this stage any order regarding the health of Duminda Silva was no longer valid.
Counsel Anuja Premaratne appearing for the first suspect MSD officer said all these submissions made before the court were political gimmicks to delay the non summary proceeding. He said his client was a MSD security officer who was in remand for over one-and-a-half years for performing his official duties and presently under interdiction. He moved to accelerate the trial.
Counsel Ananda Hettiarachchi appearing for the 13th suspect said according to the statutes there was no provision for a Magistrate to order the appointment of a panel.
ASP Shani Abeysekera moved to fix the non summary trial and to issue summons on the first ten witnesses.
The non summary trial was fixed for July 22 and the third suspect Chaminda Ravi Jayanath was further remanded till May 22.
Mr. Duminda Silva's faction and Bharatha Lakshman Premachandra's faction were involved in an armed conflict at Walpola Junction at Mullariyawa on October 8, 2011 soon after the local government elections for the Kolonnawa Municipal Council and Kotikawatte Mulleriyawa Pradeshiya Sabha.
(Courtesy: DM Online)