Cricket: Two Sri Lankans pulled up for excessive appealing
Posted by Editor on June 10, 2013 - 9:21 am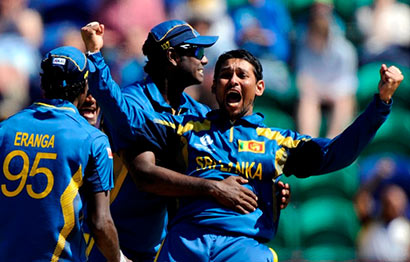 Former Sri Lankan captains Mahela Jayawardene and Tillakaratne Dilshan have been reprimanded for appealing excessively during Sunday's tense Champions Trophy clash against New Zealand.
The International Cricket Council said the two players had pleaded guilty to a level one breach of that part of the Code of Conduct which relates to "excessive appealing during an international match."
"Dilshan and Jayawardena were charged for excessive and prolonged appealing in a keenly-contested match that New Zealand won by one wicket," the ICC said in a statement.
Sri Lanka, defending a small total of 138, grabbed regular wickets to reduce the Black Caps to 122-8 before the tail rallied to win the match.
ICC match referee Andy Pycroft of Zimbabwe said both players had apologised for their actions.
"Irrespective of the outcome of an umpire's decision, players are not entitled to prolonged appeals as these can be construed as pressuring the umpires," Pycroft said in the ICC statement.
"Both the players accepted their mistake and apologised for their actions."
The charges against Jayawardene and Dilshan were laid by on-field umpires Bruce Oxenford and Rod Tucker, and television umpire Ian Gould.
An official reprimand is the minimum penalty for excessive appealing. A second offence can cost a player 50 percent of his match fees, the ICC said.
(AFP)
Latest Headlines in Sri Lanka