Customs seize 210 barrels of contraband ethyl alcohol
Posted by Editor on March 17, 2013 - 9:25 am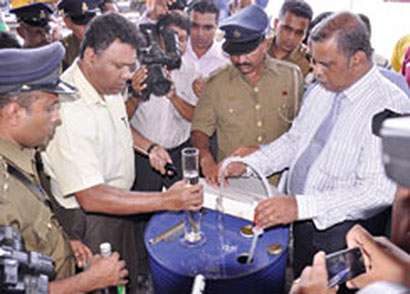 Customs and excise officials yesterday forced open two 40-foot containers and found 210 barrels comprising 62,000 liters of contraband ethyl alcohol imported from Vietnam under the guise of thinner.
The detection was made at the Grandpass Customs clearing point, where a senior Customs official, Wathsala Nanayakkara reacted angrily to the presence of the media on Friday and refused to open the containers in their presence.
However, in an about-turn yesterday, the Customs invited the media to report on the opening of the containers, which was done in the presence of journalists.
The stock had been imported by a private company but despite being informed to clear the cargo, no representative had turned up, Customs officials said.
The chemical was tested at the site itself and it was established that the stock was 96% ethyl, a costly ingredient used in the manufacture of liquor. Samples were also sent to the Government Analyst for a report.
The importer will be fined, they said.
Customs Director-General, Jagath P. Wijeweera and Excise Director-General, Vasantha Hapuarachchi were present.
(Courtesy: The Island)
Latest Headlines in Sri Lanka