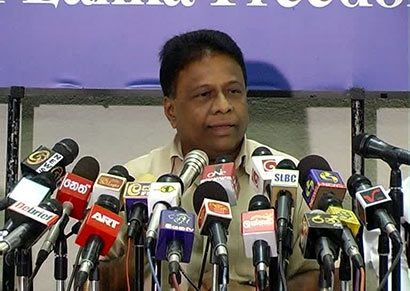 National Organizer of the Joint Opposition Dalles Alahapperuma said it is with disgust that the Joint Opposition rejects the shameless attempt being made by the government to postpone the elections of local government bodies for about 2 years and 7 months. We take this opportunity to sound the death knell of the politics of government.
Issuing a statement, he said, "When delving into the history of postponement of elections, it is the main partner of this government, the United National Party that has become unpopular. That was the action taken by them in 1982 to extend the term of Parliament for 6 years by holding a fraudulent referendum.
It was the UNP that has come to the second place without any contest. That was done by UNP during 1982 development council elections with the support of thugs. In 1996 , the advisor of the SLFP central committee and the partner of the present government, Chandrika Bandaranayke Kumaratunga has made an attempt to gain and infamous ' Black medal' during election rigging in North Western PC election in 1996. That has to be appreciated by us. There are many occasions when the ' UNP election love' can be quoted from the political history in this way. For example 1978 Mahara by election.
It is no secret that all of them are getting ready not to hold local government elections by joining with green and blue colors to commemorate the 3rd year of non-holding elections in Sri Lankan democracy. We named it as ' blue and green' election fraud during the past budget speech.
(Daily Mirror)