Decision on Vishwaroopam soon, Minister Keheliya
Posted by Editor on February 1, 2013 - 9:40 am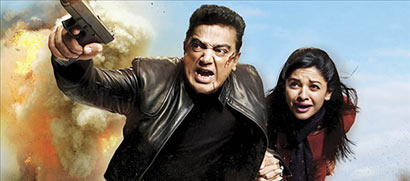 A decision on lifting the ban on Kamal Haasan film Vishwaroopam will be taken in "2-3 days," Sri Lanka Cabinet spokesperson and Media Minister Keheliya Rambukwella has said.
Asked how Sri Lanka was planning to come to a decision given the fact that the censoring authority here too had allowed its release, Mr. Rambukwella said he was looking at India. Once India decided on the movie, Sri Lanka would take an appropriate decision.
Asked if this meant that the Sri Lankan government was following the lead of Tamil Nadu Chief Minister Jayalalithaa, he said this was not the case. "Our leader is His Excellency Mahinda Rajapaksa. And we take orders from the government that is in power. We will not take lead from Jayalalithaa or anybody else," he said.
On the delay in taking a decision, he said watching the movie was not a "life and death issue" for people. "There is no particular reason to fasttrack the issue."
Mr. Rambukwella said he had watched the movie. His personal opinion was that he wanted people to watch the film and decide for themselves. Actions of politicians were judged by people. Filmmakers too were judged by people. "I am a free-minded person. My personal opinion is to release the film and get comments from people."
A Muslim group in Sri Lanka, the Muslim Media Forum, which viewed the movie earlier this week, claimed that the movie was "totally against Muslims," and was made to "please the United States." A few Muslim politicians, who support the ruling combine, have also thrown their weight behind the demand to ban the film on the island. (The Hindu)
Latest Headlines in Sri Lanka