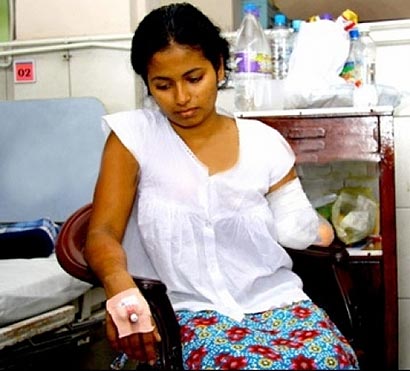 Sri Lanka Army on the directions of HE the President Mahinda Rajapaksa has offered a prosthetic arm to Ms Achala Priyadarshani, the final year Law student, whose arm on alleged medical negligence, was amputated after an accidental fall from a flight of stairs at her home in Urubokka.
President Rajapaksa, deeply touched after reading media reports on the incident, spoke to the Commander of the Army, Lieutenant General Jagath Jayasuriya Wednesday (30) morning to find out Army possibilities of getting the young victim a top-standard prosthetic arm at the earliest since such prosthetics are exceptionally fixed on to disable Army personnel as seen by himself among those residing at Army wellness resorts (Abimansala) and other places of rehabilitation.
President Rajapaksa at the same time told the Commander of the Army that he would ensure release of financial grants to purchase this prosthesis on humanitarian basis without any delay and wanted this need be done through the Army on priority basis.
Lieutenant General Jagath Jayasuriya, responding to HE, the President's directive, readily consented to provide her with a Germany-manufactured artificial arm which costs around Rs 3.5 million after immediately contacting the supplier in Sri Lanka.
Moved by the President's human touch, the Commander of the Army, in turn directed Major General R.V. Samaratunga, Director Rehabilitation to meet the victim at Colombo National Hospital today itself and do the needful in consultation with medical specialists attending on her.
Major General Samaratunga, together with the Colombo-based supplier-agent of Otto Bock Company Limited of Germany, within an hour visited the patient and conveyed the Army's intended supply of a prosthetic arm to her on directions, given by HE the President.
Medical experts on hand however opined that measurements for the prosthesis could not be taken as of now since her wrapped wounds would take at least two more weeks before complete healing.
The victim, highly taken up by the gesture, expressed her gratitude to HE the President and the Commander of the Army for their deep concern and consideration for an artificial arm of the highest quality. "Janadhipathithumata Bohoma Isthuthi Kiyanna", she uttered in Sinhala before the Army team left the hospital.
SL Army