Defence budget is high since we are still paying for war supplies: Keheliya
Posted by Editor on October 21, 2010 - 2:13 pm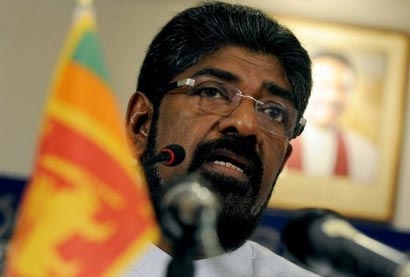 Certain organizations and non-governmental organizations (NGOs) are waging a relentless campaign to tarnish the name of Sri Lanka globally. That is why at least three organizations have again carried pictures of so called atrocities by the Sri Lanka Army, said Mass Media and Information Minister Keheliya Rambukwella this morning (Oct. 21).
Sri Lanka has clearly proved the lies behind these campaigns through several experts in the fields. But they still persist, added Minister Rambukwella, adding that the government is fully prepared to face this fresh round as well.
When the media asked Keheliya Rambukwella about the United Nations wanting a report from Sri Lanka on the final stages of the war, the Media Minister said the government is to hand over a report once the Lessons Learnt & Reconciliation Commission (LL&RC) finalises its findings.
"This will be the only official report by the government. Apart from that there may be certain unauthorized reports and 'kelapattaras' from certain quarters," Minister Rambukwella added in lighter vein.
During the media briefing at the Government Information Department in Colombo, Minister Keheliya Rambukwella said that though most knew the answers to the question of the increase in the defence budget, they still spread a negative picture saying that though the war had ended the government was still increasing the defence budget with ulterior motives.
Drawing an example, Mr. Rambukwella said when the military needed multi-barrels in their final thrust into the north; these were provided by certain countries due to Sri Lanka's friendship with them. "They were ordered over the phone and we received them. But we have to pay for them now. That is why the defence budget is still high," he reminded.
Ada Derana
Latest Headlines in Sri Lanka