Defence Secretary at military symposium: 'SL happy to share ways of defeating terror'
Posted by Editor on June 1, 2011 - 9:17 am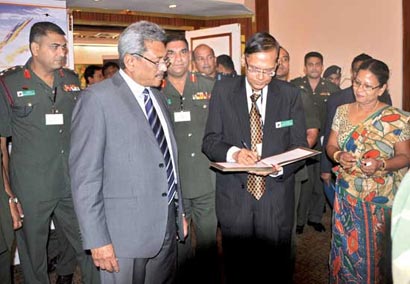 'No country in the world should suffer from terrorism as Sri Lanka has suffered, said Defence Secretary Gotabhaya Rajapaksa and expressed his hope that the other nations will learn from the Sri Lankan experience of defeating terrorism in greater detail, defeat international terrorism and bring safety to the entire world.
The Defence Secretary made this observation while delivering the keynote address at the three day international exhibition "Defeating Terrorism the Sri Lankan Experience" organized by the Sri Lanka Army to share its experience with the other nations in which military representatives of 42 countries participated. He also stated that so many countries the world over are facing problems posed by domestic and international terrorism and it is important to share lessons learnt from the Sri Lankan experience in combating terrorist tactics, providing humanitarian assistance and dealing with political and international factors.
The Defence Secretary further stated that along with addressing many other domestic issues properly, international pressure management by the political leadership was very important in eradicating terrorism.
The enormously successful Vadamarachchi Operation that pushed the LTTE to the brink of its defeat could not be sustained because of the Indian Government's intervention.
The primary problem was that the relationship between the two countries had not been managed effectively. He added that on this occasion President Rajapaksa went out of his way to keep New Delhi briefed about all the developments taking place in Sri Lanka and a special committee was established to engage in constant dialogue.
Rajapaksa also stated that relationships with other important regional allies were well maintained by the government which was a key success factor in the eradication of terrorism. He added that unfortunately few influential figures outside the region were skeptical about the government's decision to reopen a military campaign against the LTTE mainly due to the fundamental misunderstanding about the nature of LTTE and the necessity to eradicate it.
He also said as Sri Lanka is a small country, it was not possible for us to give the management of non critical foreign opinion the same level of attention we gave to India and other key nations. So many misconceptions remained intact and a number of international figures formed very strong opinions about our conduct of the war which have proven hard to shake to this day.
He added that this is deeply disappointing to the government because one of the most important facets of the Sri Lankan war against terrorism was the immense care with which it was conducted.
Source: Daily News
Latest Headlines in Sri Lanka