Dehiyattakandiya UNPers join the SLFP in their hundreds
Posted by Editor on September 6, 2012 - 1:34 pm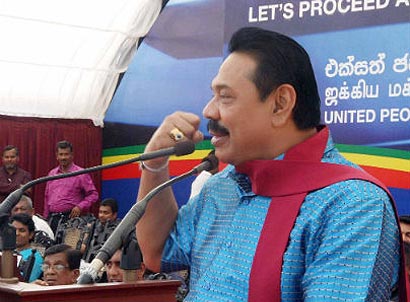 President Mahinda Rajapakse emphasized that the government is holding elections in due time to protect the democratic tights of the people and not to put the political parties that cannot face the people in to a predicament.
The president made these comments addressing a people's rally held at the Mahaweli sports grounds at Dehiattakandiya yesterday.
He reminded about the United National Party rolling up electoral maps in the past fearing to face elections. The President said that under the government of the United People's Freedom Alliance the people of the country not only inherited a liberated developed country, but also got their democratic rights safeguarded to its maximum.
He said that the government has launched the development process with a clear grasp of the problems being faced by the people. The people from all corners of the country are rallying round the United People's Freedom Alliance from the Pradeshiya Sabha level up to the level of the president.
The President requested the people to join with the representatives of the United People's Freedom Alliance who love the motherland and work for the development of the country.
The United National Party organizer for the Dehiattakandiya D.M.W Nandana Bandara and 600 UNP stalwarts including the presidents and secretaries of 36 out of the 47 United National Party branch organizations in the Mahaweli "C" zone joined the United People's Freedom Alliance at this rally expressing support for the development process being carried out by the president and the government.
Source: Government News Portal
Latest Headlines in Sri Lanka