Deyata Kirula ushers economic revival in A'pura
Posted by Editor on February 8, 2012 - 7:52 am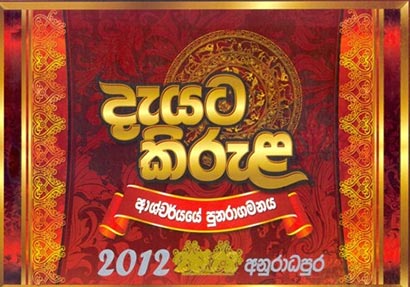 The government has spent about Rs 21,000 million for development projects in the Anuradhapura district parallel to the Deyata Kirula Exhibition with the aim of reviving the past glory of the ancient capital, statistics of the Mass Media and Information Ministry Research Unit revealed.
The development projects launched by the government on par with the Deyata Kirula exhibition has ushered an economic, social and cultural revival in the Anuradhapura district. The ministries, line departments and affiliated institutions under the government have spent about Rs 11,809 million to develop infrastructure facilities in the Anuradhapura district.
This figure stands at more than half of the total expenditure. The government has also spent Rs 4,263 million to develop social infrastructure facilities, Rs 1,369 million for human resources development, Rs 494 million for agricultural development, Rs 51 million for wildlife and forest conservation programmes and Rs 3,800 million for other public services in the Anuradhapura district.
The government's expenditure on infrastructure development includes a number of road development projects, 117 minor irrigation renovating projects, 56 projects to broaden the national grid electricity supply, 15 water supply projects, 78 national irrigation systems and tanks renovation projects and seven projects to construct six new post offices and the Anuradhapura post office complex.
The government has also distributed Rs 2 million for every Grama Niladari division in Anuradhapura under the Maga Neguma project. It has also distributed 1,000 roofing tiles for each selected 50,000 houses which had no permanent roofing.
According to the statistics, 15 drinking water projects, three housing scheme proposals for low income families, 173 projects to establish 50 regional maternity clinics, child health and nutrition programmes, archeology conservation projects, and projects aiming the disabled people were also launched by the government in the Anuradhapura district. Fifty new buses were also provisioned to areas with transport difficulties.
The government has extended the Divi Neguma programme among 105,300 domestic units based in Anuradhapura parallel to the exhibition. The government has initiated 16 projects to develop the fresh water fisheries industry, six projects to set up milk farms, 35 projects to renovate and construct Agrarian Services centres, and 195 projects to develop seed farms and research farms in Anuradhapura
The government's expenditure on human resources includes the development of 12 national schools and Rajarata University, construction of 100 school computer laboratories, vocational training for unemployed youths etc. The government has also developed the Wilpattu National Park and had constructed electrified fences to control the human elephant conflict. Reforestation and environmental conservation programmes have also been implemented in the Anuradhapura district.
Courtesy: Daily News
Latest Headlines in Sri Lanka