Dialog expects to gain from Number Portability
Posted by Editor on May 12, 2010 - 5:47 am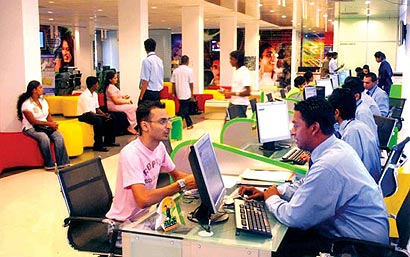 Mobile telephone giant Dialog Telekom PLC announced yesterday that it expects to gain from the proposed implementation of the Mobile Number Portability (MNP).
Speaking at an Investor Forum, Dialog Group Chief Executive Officer (CEO), Dr. Hans Wijayasuriya said that the company was unlikely to lose from it as previously anticipated.
"In fact what we advocated not only for Number Portability for mobile but also for fixed lines, as well. However, we have taken the necessary preparatory action as our market share is disproportionately high," Wijeyasuriya said.
"Nevertheless, if you take the global market place, there are many instances where the biggest players or market leaders have gained from MNP like in the United Kingdom where Vodafone was seen mopping up the market after implementation of MNP."
Wijayasuriya added that they made representation to the Taxation Committee that the effective tax rate on mobile industry was 30%.
"However, we don't want to lobby that it should be brought down as operators will get the discount. What we advocate is that the government should grant more concessions and rebates to the industry," he said.
He further said that Dialog did not expect call charges to be increased anytime soon as it would result in a tariff increase.
Referring to the implementation of interconnection, Wijeyasuriya said that Dialog ideally desired an interconnection regime that was based on the actual cost, so that it will control pressure on calling as well as receiving ends. "In practice, we know that this will not be 100%. What will be is a mix of cost-based and market palatable rates," he said.
Dialog Telekom recorded a Net Profit After Tax (NPAT) of Rs.1,276Mn and Rs.705Mn. for the quarter at Company and Group level respectively, an improvement of 313% and 153% relative to Q1 2009. Company EBITDA grew by a significant 68% relative to Q1 2009 to reach Rs.3,343Mn., signifying the fifth successive quarter of EBITDA growth and an improvement of 5% QoQ. Accordingly, the 1st Quarter exhibits an EBITDA margin of 37% for the Company, up 12% points YoY and 1% relative to Q4 2009.
Company Revenue grew by a robust 15% YoY and 2% compared to Q4 2009. In line with growth at EBITDA level, NPAT was recorded at Rs.1,276Mn., up 313% from a negative NPAT of Rs. 598Mn. in Q1 2009 and representing a 5% improvement QoQ.
Dialog says its revenue growth was driven by the addition of 364,809 (net) new subscribers. Accordingly, the company grew its subscriber base to 6.74Mn recording a 15% subscriber growth YoY and a 6% growth relative to Q4 2009. (SF)
News Source: TBL News
Latest Headlines in Sri Lanka