'DMK is committed to protect lives of Sri Lankan Tamils'
Posted by Editor on February 11, 2013 - 6:21 am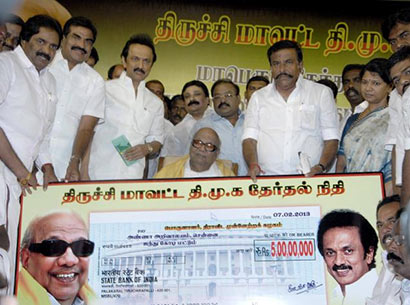 Submitted by Walter Jayawarhana
International conference soon to highlight sufferings of Tamils, says Karunanidhi
The DMK is committed to protect the lives and livelihood of the Sri Lankan Tamils and it would continue to fight for their rights in the post-Eelam struggle period too, party president M. Karunanidhi asserted in Tiruchi on Thursday.
"Even after the war has ended in the island nation, Tamils are facing oppression. Although the Tamils lost the battle owing to various reasons, we will fight for their rights peacefully and are prepared to make sacrifices for the cause," he said addressing a public meeting to mark the handing over of election fund by the district unit of the party for the Lok Sabha elections. Soon an international conference will be held; the DMK and the TESO will raise its voice to highlight the sufferings of the Tamils.
The Sinhalese government, he said, was attempting to wipe out Tamil language in Sri Lanka. Tamil names of as many as 99 towns and cities in Sri Lanka have been changed to Sinhalese. "I have already written to Prime Minister Manmohan Singh and Congress president Sonia Gandhi. They have replied assuring to look into the matter. It remains to be seen whether whey will pay attention or it will be left to us to fight for the cause," he said. The DMK is the only party which has consistently fought for the rights of the Sri Lankan Tamils.
But some people were attempting to portray the party as anti-Tamils accusing the party of inaction when in power during the final stages of battle in Sri Lanka. But many attempts made to reach an agreement failed then. "We were not responsible for it. Only those who paid lip service to Sri Lankan Tamils cause were responsible," he said.
Referring to party treasurer M.K.Stalin's earlier statement that the Opposition voice was being stifled in the Assembly, Mr.Karunanidhi told the party cadres not to worry as times will change. The AIADMK government did not feel any remorse even after being pulled up by the courts repeatedly for its various actions. The Assembly could function in the new building, constructed under the DMK rule, just for four months. But there will be good news in the near future as the disproportionate assets case (against Chief Minister Jayalalithaa) will come to an end soon, he said. Mr.Stalin said the DMK members were not being allowed to raise people's issues in the Assembly. If they insisted, they faced eviction. The party has decided not to attend the Assembly on Friday when Ms.Jayalalithaa is scheduled to reply to the Governor's address.
Party MP Kanimozhi accused the AIADMK government of failing to fulfil its election promises. K.N.Nehru, former minister and DMK district secretary, said the district unit has contributed Rs.5 crore towards the election fund. (Courtesy the Hindu)
Latest Headlines in Sri Lanka