DMK protests against MR's participation in UNGA
Posted by Editor on September 26, 2014 - 12:40 pm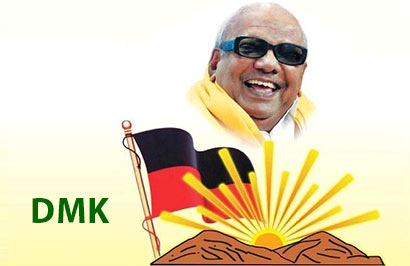 Dravida Munnetra Kazhagam (DMK) and its allies observed a "Black Day" protest across Tamil Nadu condemning Sri Lankan President Mahinda Rajapaksa's participation in the UN General Assembly meeting despite not cooperating with the world body's probe into alleged rights violations in Sri Lanka.
Black flags were hoisted in the houses of DMK leaders and workers and in several public places besides protest demonstrations as part of the 'Black Day'.
Slogans were raised against Mr. Rajapaksa for alleged "genocide" of Tamils in Sri Lanka during the last phase of the war against LTTE in 2009.
On August 25, Tamil Eelam Supporters Organisation (TESO) chaired by DMK chief M Karunanidhi had adopted a resolution urging the United Nations not to allow Mr. Rajapaksa to attend its General Assembly as he had not allowed entry to a UN team probing alleged rights violations in the island nation.
DMK had on September 3 also held protest demonstrations urging the UN to not allow Mr. Rajapaksa to address the ongoing General Assembly.
Appearing in a black shirt with a white shawl in the place of his trade mark white shirt and yellow shawl, Mr. Karunanidhi told reporters that the Black Day observance has created an "upsurge" among Tamils and that they will "not forget it."
Viduthalai Chiruthaigal Katchi chief Thol Thirumavalavan, hoisting a black flag in party office appealed to Prime Minister Narendra Modi to talk about the plight of Tamils in Sri Lanka at the UN General Assembly. Steps should be taken to win over their rights, he appealed to Mr. Modi.
Naam Tamilar Katchi (NTK) founder leader Seeman, an articulate pro-Tamil leader, also hoisted black flag and expressed his party's disapproval of Rajapaksa's participation in the UN meet. NTK is not an ally of the DMK. (PTI)
Latest Headlines in Sri Lanka