DO NOT CONDUCT POLLS DURING CRICKET WORLD CUP, APPEALS ARJUNA
Posted by Editor on January 4, 2011 - 1:09 pm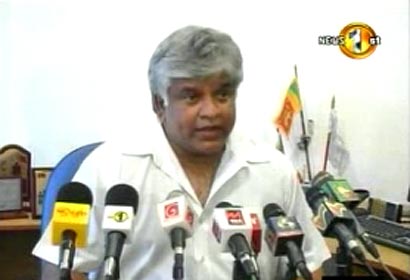 Holding local government elections during the World Cup Cricket tournament is not the right thing to do, says parliamentarian Arjuna Ranatunga.
He expressed these views at a media briefing this afternoon."If the government is keen to develop the country and project a proper image, this is not the right time to hold local government elections.
"We all know that when we have elections, there can be issues within the same party and also among several parties. But when you have elections, not only local government elections but also other elections, we can create unwanted publicity regarding our country.
"And I personally feel it is not the right time to do that right now. I hope and pray that the government will look into this matter," said said Arjuna, the captain of the Sri Lanka cricket team, who led our lads to win the Cricket World Cup in 1996.
"As a former cricketer and the cricket captain of Sri Lanka, I make this appeal to the President and the Sports Minister to draw their attention to this issue," said Arjuna Ranatunga.
Courtesy: News First
Latest Headlines in Sri Lanka