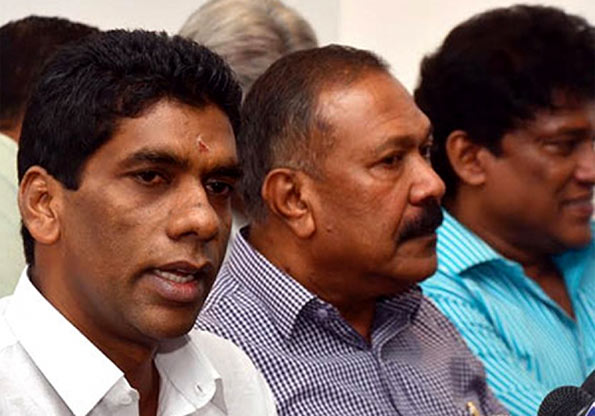 The Tamil Progressive Alliance (TPA) yesterday urged the government to stop referring to the up-country Tamil community as "Indian Tamils" and in future to refer to them as "Indian origin Malayaga Tamils" in the New Constitution.
This was just one of the proposals made by the TPA to the government with several proposals and suggestions pertaining to Constitutional reforms.
Speaking at the media briefing held in Colombo, Upcountry New Villages, and Estate Infrastructure and Community Development Minister Palani Digambaran said the devolution of powers vested in the central government, provincial councils and local government bodies should be clarified through the new Constitution.
The TPA headed by Minister Mano Ganeshan, had appointed a sixteen-member-committee to do the spadework for the new constitution.
The political, cultural and social expectations of the people in the up-country villages will be taken into consideration and tabled in Parliament in order to form a new Constitution.
"Since attaining Independence in 1948, up-country Tamils have felt that they were excluded from the government and development projects carried out by the government. When compared to other nationalities, they are far behind in many sectors, including Health and Education. This is a result of wrong decisions made by previous governments. They no longer want to be discriminated against. Affirmative action with regard to improving the living standards of the people should be included in the Constitution," the leader of committee P.M.Muthulingam, said.
Proposals to increase electoral representation in up-country provincial councils are also expected to be included in the proposals by the committee.
The government is urged to restore the rights of Tamils of Indian origin who live in up-country areas, the TPA said.
(Daily Mirror)