Don't lose hope in finding settlement- Akashi
Posted by Editor on August 26, 2012 - 3:33 pm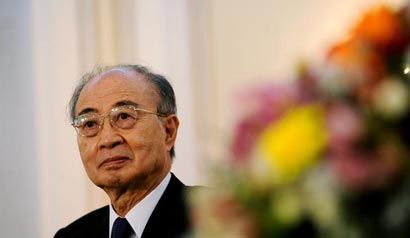 The Japanese Special Envoy Yasushi Akashi has urged Jaffna Civil Society not to lose hope in achieving peace and to think positively towards reaching an amicable settlement to the Tamil question.
Yasushi Akashi met the Catholic Bishop of Jaffna Rt. Rev Thomas Savundranayagam and Jaffna Civil Society members at the Bishop's house in Jaffna on Friday.
The Jaffna Civil Society was represented by the former Vice Chancellor of the University of Jaffna P. Balasundarampillai and the chairpersons of various organizations in Jaffna.
The members of the Jaffna Civil Society brought to the notice of Akashi the problems faced in the post-war atmosphere in the North such as the land issues, and the new camps setup by the security forces.
Responding to the Jaffna Civil Society representatives the Japanese Special Envoy said compared to the situation immediately after the war, there was a vast improvement in socio economic conditions in the North.
Admitting to the shortcomings in creating peace in Jaffna, Akashi said anywhere in the world putting things in order  immediately after a war was a daunting task. He said a positive approach and thinking without losing hope in creating peace was the need of the hour.
Commenting on the LLRC action plan the Japanese Special Envoy said the plan could not be considered a document and it could be a starting point towards a healthy peace process.
Akashi commenting on the present stalemate situation with regard to the Parliamentary Select Committee said unlike going to war striving for peace was a difficult thing.
Source: Ceylon Today
Latest Headlines in Sri Lanka