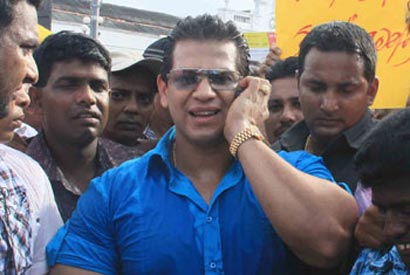 Police said 60 percent of 82 accounts of MP Duminda Silva has been investigated so far. SSP Ajith Rohana said MP Silva was questioned by the CID for over six hours this morning.
Earlier, the CID obtained a court order to probe the bank accounts of Duminda Silva, as 'Wela Sudha' testified he paid money to the politician, the Police Spokesperson said at a press conference.
Wela Sudha, who was arrested in Pakistan and later deported to Sri Lanka, has told the CID investigation officers that he paid Rs. 2.5 million to the Parliamentarian as a commission.
The CID also interrogates the drug kingpin under a three months detention order on the details on how he managed to carry out drug related operations from Pakistan.
Wele Sudha fled the country after the police launched open inquiries into his activities in 2010.
Wele Sudha's assets including two luxury apartments, two houses in Bagatalle Road, two houses in Pannipitiya and Madiwela, 16 perches land in Dehiwala and 14 perches in Nedimale had been confiscated by the Colombo High Court.