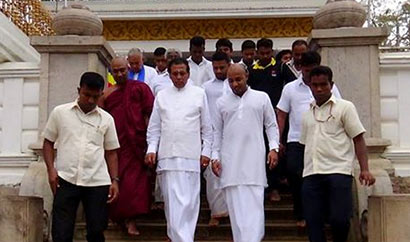 Twenty policemen who acted as security guards of Former Minister of Education Services, Duminda Disanayake have been transferred from Anuradhapura Police Headquarters to Police stations in rural areas, as a political revenge.
Dissanayake was sacked from his ministerial portfolio after he decided to support common Opposition candidate Maithripala Sirisena. Officers of his security detail were asked to report to Anuradhapura Police Headquarters on 24 November. Thus an inspector, three sergeants, a driver and 15 constables arrived at the Police station.
Suddenly these 20 policemen have been transferred to rural areas on 2 December by orders of SSP-Anuradhapura, Mahesha Senaratne. They were shifted to Kebithigollewa Police Headquarters, Medawachchiya, Wilachchiya and Thanthirimalaya.
According to the election laws, one cannot recruit, promote or transfer any government servant during an election period. In addition, this is a violation of their rights, police sources said. Commenting on the issue SSP Anuradhapura, Mahesha Senaratne said, these officers did not receive their salaries from Anuradhapura Police Headquarters and that they had been transferred to other police stations that had vacancies.
Duminda Disanayake was not left with a single security guard by 3 December. They have all been transferred.
(Courtesy: Ceylon Today)