Elections chief issues polling day guidelines
Posted by Editor on March 26, 2014 - 9:40 am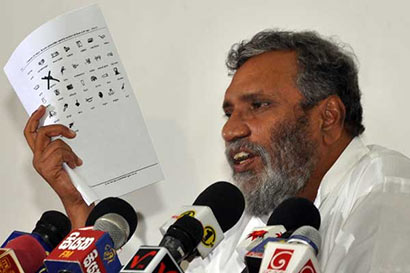 Elections Commissioner Mahinda Deshapriya yesterday said only the voters, staff of the polling station, secretaries of contesting parties, candidates, polling agents and election observers, police officers on duty at the polling station and persons authorized by the returning officer are permitted to enter polling stations.
The use of mobile phones, taking photographs, videoing, retaining firearms and smoking and the use of liquor and other intoxicants are prohibited at the polling station on March 29, Deshapriya said in a release.
Meanwhile, the release added that election offices established on polling district basis can function until March 27 midnight while propaganda activities at such offices should cease after midnight on March 26.
Similarly, the display of boards or decorations in the notified central officers or in any office allowed to be established in the district for a candidate or in the residence of the candidate are prohibited after March 26 midnight, it said.
The release added: "Teams of police officers of District/Regional Headquarters and monitoring officers will visit to inspect such places in the forenoon on March 27. Also, party offices in the polling districts should be removed from forenoon on March 28 and action will be taken to remove illegal offices, if any."
Meanwhile, Deshapriya in another release said the requirement that all propaganda material, decorations, flags, banners, etc can be displayed only at venues where meetings of political parties/independent groups are held during the period of the elections was discussed at a meeting held with secretaries of political parties, police officials and election officers. It was agreed at the discussion that the requirement be relaxed at meetings where leaders of political parties participate. Accordingly, it was agreed that decorations can be displayed within a reasonable distance from the venue of such meetings.
The release added: " An agreement was also arrived at that such decorations can be displayed from the afternoon of the day prior to the day of the meeting and up to maximum of 12 hours after the meeting.
"While political activists who organise such meetings have been informed to remove such displays without delay, instructions have been issued to the police officers to remove such material and decorations.
"Secretaries of political parties and leading political activists have been advised that the display of publicity material outside venues of meetings attended by politicians other than leaders of the contesting political parties, is illegal and to abstain from erecting such displays and decorations. All relevant parties and individuals are informed that persons who engage in such illegal displays will be treated as persons who violate election laws."
(Daily News)
Latest Headlines in Sri Lanka