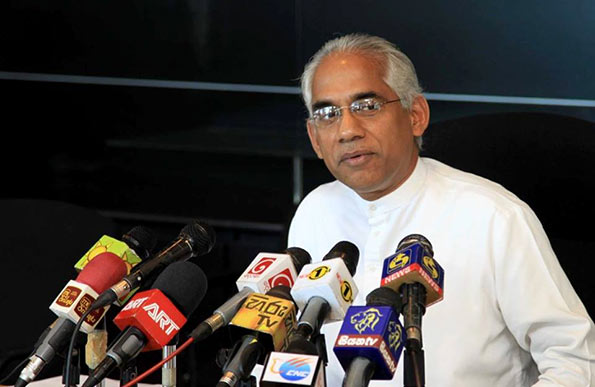 State Minister of Finance Eran Wickramaratne, addressing a forum in Colombo yesterday (12), said that what the Government wants from the private sector is not only complaints, but possible solutions to those problems.
Wickramaratne, with Ceylon Chamber of Commerce Chief Economist Anushka Wijesinha concurring, giving an example on the success of this approach, said that the Information and Communication Technology (ICT) industry recently told him about the problems they had in recruiting skilled persons from overseas, due to the lack of the required skills, locally.
The industry told him that the problem they had was, the multitudinous number of approval processes that they had to go through to achieve their objective, when it came to the 'import' of such skilled personnel.
The industry had to first get the concurrence from the Immigration Department (ID) for the 'import' of such skilled persons. After that 'approval' was got, the next step was for the ID to submit the application to the relevant line Ministry, ie the Digital Infrastructure Ministry for its approval. Once Ministry approval was obtained, the Ministry in turn submits this application to the Information and Communication Technology Agency (ICTA), a State institution, which comes under its purview for their concurrence. Once that too is obtained, ICTA re-submits this application to the industry itself, from where this application originated in the first place, for their approval!
All of this bureaucracy takes a month of Sundays, said Wickramaratne. After that time the industry might not even require the services of such a person, he said.
The Minister therefore asked the ICT Industry what their solution, to this problem, was. They responded that the Controller of Immigration should be made wholly responsible for giving approval to the requirement for the import of such skilled personnel needed by the industry.
Wickramaratne said that taking such a solution on board, a Cabinet paper has been submitted, requesting that the Controller of Immigration be empowered to give approval for industry requirements for the importation of such skilled manpower, with the industry first submitting such a requirement list to the Controller, which validity will be reviewed from time to time. The occasion was a seminar on 'Economic Freedom' organized by Advocata Institute, a private think tank.
(Source: Ceylon Today – By Paneetha Ameresekere)