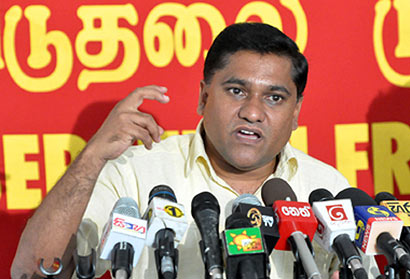 The Janatha Vimukthi Peramuna (JVP) said today Finance Minister Ravi Karunanayke should be aware that he too would have to pay the newly imposed 'Mansion Tax' of Rs.1 million.
"The Finance Minister is also subjected to this tax. We commend the Mansion tax as a means of acquiring money from those who have. The funds accrued from this tax should be properly monitored to make sure that the benefits will trickle down to the ordinary citizen," JVP Propaganda Secretary Vijitha Herath told a news conference.
Finance Minister Ravi Karunanayke in the Interim Budget he presented in Parliament yesterday announced that a new tax known as the 'Mansion Tax' whereby owners of houses valued at more than Rs.100 million or exceeded a floor area of 5000 square feet would have to pay Rs.1 million to the Government.
(Daily Mirror)