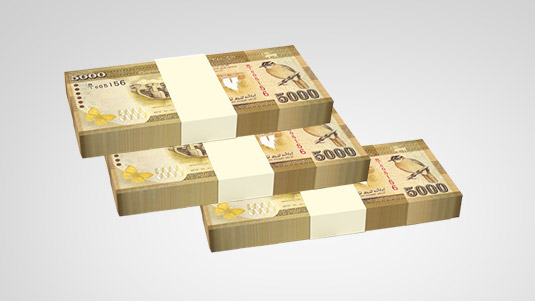 Foreign exits from the Government Securities Market (GSM) amounted to massive Rs 16,063.18 million in the week ended Wednesday (11 January), Central Bank of Sri Lanka (CBSL) data showed.
This takes such exits in the 13 weeks to Wednesday to Rs 72,205.07 million (22.8%) to Rs 244,518.30 million.
Such exits are led by a combination of Trumpism, followed closely by the Federal Reserve System's upward outlook on rates. After the Fed, allowing for a lapse of 12 months, raised its benchmark Fed Funds Rate (FFR) by 25 basis points (bps) last month, thereby uplifting the FFR to be between 50-75 bps points currently, the market anticipates three such rate hikes in the current year, spurred on by President elect Donald Trump's election promises of boosting infrastructure spending, deregulation and protectionism, which are expected to prop up inflation and therewith interest rates in the world's largest economy.
These have led to foreign funds exiting from markets such as Sri Lanka, and re-parking the same in US based assets for better returns. Such exits cause depreciative pressure on the rupee and also help to keep local interest rates on an upward trajectory.
Nonetheless, on Friday (13 January), the GSM reversed its course, enjoying an inflow of Rs three billion, market sources told this reporter. It was due to the uplift in excess liquidity, because of this inflow that the average weighted prime lending rate (AWPLR) declined sharply by 37 basis points (bps) to 11.47% in the week ended Friday (13 January), they said.
This reverse course was due to the flat speech made by Trump on Wednesday, where he gave no indication of fulfilling his election pledges such as slapping punitive tariffs on Chinese imports, uplifting infrastructure spending, cutting down on taxes and going ahead with deregulation, all of which will have had boosted inflation and therewith interest rates in the world's largest economy, the sources said.
As a result, foreign investors are once more queuing up to invest in the GSM, as well as in the local equities market in the coming weeks with a massive wave, beginning as early as Friday, 20 January, they alleged. Such envisaged inflows will help to strengthen the rupee and bring down local interest rates, they said.
(Source: Ceylon Today – By Paneetha Ameresekere)