Expressway vehicles should be in perfect condition
Posted by Editor on December 11, 2011 - 7:14 am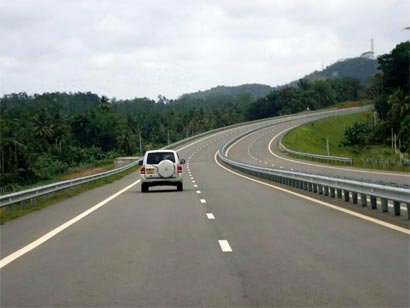 The Motor Traffic Division (MTD) of the newly opened Southern Expressway has told motorists to ensure that their tyres, brakes and gears are in perfect condition before entering the Expressway.
A recent survey revealed that several accidents had been reported on the Southern Expressway during the past two weeks due to the negligence of drivers who do not follow road rules.
According to the survey the condition of some vehicles was not up to proper standards and should not be deployed on the Expressway. MTD Engineer Jeewan Fernando said that motorists should drive only on the left hand side of the track and not on the right under any circumstances. Motorists could overtake another vehicle only from the right hand side and not from the left.
"After overtaking the vehicle from the right hand side, it is compulsory for drivers to re-enter the left hand side and drive,".
He called upon motorists to keep a close tab on the speed of the vehicle at all times and other vehicles behind.
He said motorists should be vigilant over road humps at two kilometres of every exit point.
According to the police, apart from vehicles, RDA property including lamp posts and iron railings had been damaged due to accidents on the Expressway. Several people too sustained injuries as a result.
Several squads of traffic policemen were deployed on the Expressway yesterday to nab motorists who do not adhere to traffic rules and safety regulations that endanger the lives of other motorists using the same highway, Police Media Spokesman, SP Ajith Rohana told the Sunday Observer .
The police detected 93 traffic offences committed by motorists who used the Southern Expressway since it was opened on November 27. Nine accidents have been reported so far.
The Police Media Spokesman said that most drivers have been charged with causing obstruction to other vehicles by not keeping to the left side of the road and others for exceeding the speed limit.
An accident occurred last Friday around 3.30 a.m. at the 95th kilometre post at Pinnaduwa when a car travelling at a high speed crashed on to a metal post of the highway when the driver fell asleep at the wheel.
The car was badly damaged while the driver escaped unhurt. The Media Spokesman said that some motorists have been charged with unauthorised parking of their vehicles on the highway.
"It is an offence for motorists to park their vehicles on the Southern Highway to witness the scenic beauty of the environment. Some motorists were not aware of it," he said.
Courtesy: Sunday Observer
Latest Headlines in Sri Lanka