Field Marshal ready to contest next prez poll
Posted by Editor on June 1, 2018 - 7:15 am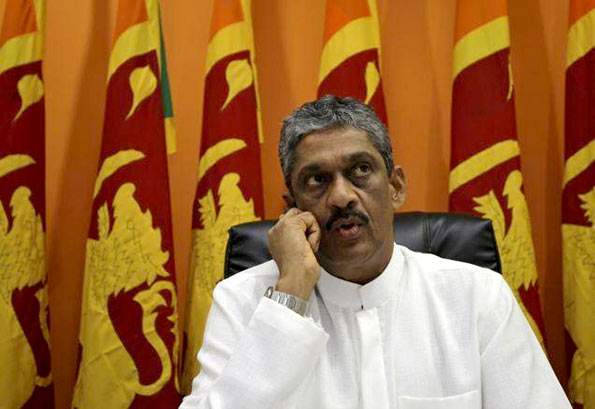 KANDY – Minister Field Marshal Sarath Fonseka has said in Kandy that he will contest the 2020 presidential election if his party gave him nomination.
Field Marshal made the announcement responding to a media query at Malwatte Temple on Wednesday (30) afternoon when he paid a courtesy call on the prelate of Malwatte.
People talk high about Gotabaya Rajapaksa, but he was not that strong, Field Marshal Sarath Fonseka told the media.
Responding to media further, minister Fonseka said that the economic plans titled 'Viyath Maga' of the former Defence Secretary Gotabaya Rajapaksa was a copy of the Yahalapalana government's economic policy being practiced at present.
However, there was nothing wrong in presentation of the policy by Gotabaya Rajapaksa, Fonseka said.
He said the names of the 118 who took money from Arjun Aloysius should be exposed. There might even be many more who received money from Aloysius.
"Aloysius came to me during the election and gave some money. It may have been about Rs. 100,000. I cannot remember whether it was cash or cheque I gave that money to two candidates contesting the election who were present at the time", he said.
Field Marshal Fonseka said the government should work hard and talking alone was not sufficient. There was a very short period left for the government to work.
There was only about 18 months for it to carry out its programmes, he added.
During elections businessmen gave money to politicians it was a common practice, he said.
Fonseka said the government had shortcomings and those should be corrected.
During the lengthy discussion that lasted for over one and half hours between Minister Fonseka and the prelate, the latter had made references to the current issues facing the country. The discussion was not open to the media.
Minister Fonseka earlier told the prelate that the wildlife ministry had to its credit sufficient funds.
The minister said that at least the electric fence could be built whenever it was required to save the lives of people from being destroyed by wild elephants.
Most Venerable Tibbatuwawe Sri Siddhartha Sumangala Mahanayake Thera urged that steps be taken by the government to protect the human beings as well as the wild elephants.
Mrs. Anoma Fonseka was also present.
(Source: The Island – By Cyril Wimalasurendre)
Latest Headlines in Sri Lanka