Finance Minister contradicts IMF and Moody's on growth stats
Posted by Editor on November 3, 2015 - 7:28 am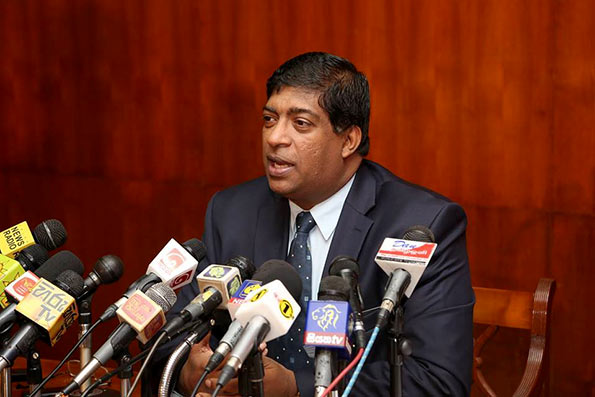 International Monetary Fund (IMF) and top credit rating company Moody's Investors Service Singapore Pte. Ltd indicate that Sri Lanka will maintain 5 to 5.5 percent growth in 2016.
To overcome this crisis, Sri Lanka's fiscal policies should be based on consolidation featuring a combination of expenditure restraint and durable revenue reforms, their sources said.
However, Minister of Finance Ravi Karunanayake told the media in London, "They were wrong",referring to the IMF's recent growth forecast of 5-5.5 percent for this year. "I think it will be in the range of 6.5-6.7 percent, he said. With the IMF expected to decide on a post-programme monitoring in mid-November, he said: "We would like them to see what we have done and show that they are with us, he said.
IMF staff mission led by Todd Schneider visited Colombo from September 8–18 to conduct post-program monitoring discussions and strongly emphasized the need to eliminate tax expenditure, which are tax exemptions, tax holidays and feature reduced rates as the most important components in a strategy to make the tax system simple, fair and efficient.
"The mission welcomes the authorities' attention to the need for market-based structural reforms and efforts to reinvigorate key initiatives. Fuel and electricity pricing, subsidies, trade policy, liberalization of factor markets (particularly land), and the investment environment are areas that could play an essential role in sustaining high rates of economic growth, the IMF mission said.
Putting state firms on a commercial footing, allowing them to make market-based financial decisions (including pricing) and subjecting them to greater financial discipline will also help to reduce risks to the budget and the financial system, the mission added.
Moody's Investors Service Singapore reported that Sri Lanka being a frontier market in the region, will witness a moderate growth of 5.5 percent,relative to recent peaks, as the Chinese economy slows down.
Given Sri Lanka's institutional weaknesses in general, reforms that support inflation management, fiscal consolidation and a stable political outlook have the ability to raise sovereign credit quality and speed-up progress on structural issues, its report said.
Deputy Director, Institute of Policy Studies of Sri Lanka Dr. Dushni Weerakoon said at a forum that given the current economic situation, Sri Lanka is heading towards an IMF bailout because current foreign reserves are ample only for four months' imports, which amount to US $ 4.5 billion.
(Source: The Island – By Hiran H. Senewiratne)
Latest Headlines in Sri Lanka