First Lady battling against Dengue – BTI at last!
Posted by Editor on September 2, 2010 - 4:16 pm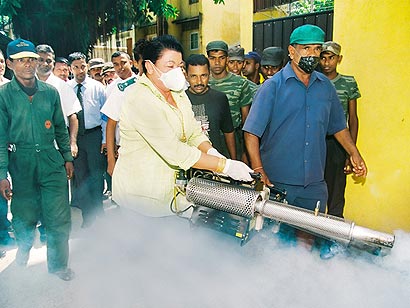 (Colombo Lankapuvath) Dengue is something we hear every day. This deadly menace has not yet been eradicated. According to a concept of First Lady Shiranthi Rajapaksa an islandwide Dengue Eradication Campaign under the "Carlton Suwa Udana" healthcare program aimed at enhancing the Standards of Health, nourishment and life skills of people was started in Colombo suburbs yesterday (01).
The First Lady Shiranthi Rajapakse herself sterilized Dengue Breeding grounds in Maligawatte area in Colombo yesterday (01) in the eradication campaign organized by the Carlton Suwa Udana Programme. This Campaign included cleaning of school premises, nearby lands and houses. It also covered the Modera Ananda Vidyalaya, Bambalapitiya Sirimavo Bandaranaike Vidyalaya, Isipathana College, Borella Sangamitta and Seevalie Colleges. Education, Health, Defence Ministry Officials and Prison Officers attended this campaign.
A five day programme on cleaning process including public awareness agendas and follow up action programmes will be implemented in the Western Province.
Along with that locally made BTI bacteria will be used from today island wide to control mosquito breeding grounds. This will be done with the sponsorship of the Health Department. The Minister of Health, Maithreepala Sirisena said that the initiation of using the bacteria is a victory of the people and it would protect people's lives.
For the very first time the bacteria was sprayed yesterday (01) at State Engineering Corporation work site and the Health Minister Sirisena emphasized the fact that the Presidential Task Force will be set up to put into operation the National Dengue Control island wide. Successful results were achieved through this programme and almost all sectors, organizations and the public made a great effort.
The Medical Research Institute (MRI) will keep an eye on the site continuously and examine the reaction and impact of locally made BTI bacteria on dengue mosquito breeding. The MRI carried out all necessary testing.
The Health Minister, Sirisena thanked all who took part in producing the bacteria, State Engineering Corporation and the media for the support extended by them towards the dengue control program.
Health Deputy Minister Mahinda Amaraweera, Mervyn Silva MP, Western Provincial Council Minister Jagath Angage, several Ministry officials and many others were present.
The Total number of Dengue Deaths in the country is 200 and the total number of dengue cases has risen to 28, 015. The Highest number of cases is reported from Colombo District and the number of cases is 4,775 and 50 deaths.
So far the total number of Dengue cases reported in the month of August is 3,054.
Latest Headlines in Sri Lanka