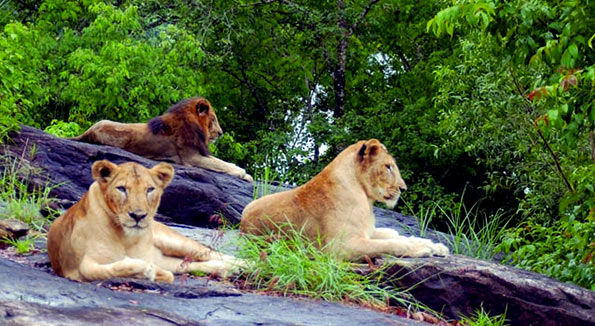 Government has made arrangements to open the country's first safari park today (March 28) at Ridiyagama in Hambantota in the Southern Province.
The construction work at the first Safari Park in the island started in 2008 under the direction of National Zoological Department. The park, being built under two phases, covers an expanse of about 500 acres and it contains a public entertainment zone extending to about 69 acres.
Four of the park's six zones will be reserved for carnivorous animals while the remaining two zones will be set apart for the herbivores. Two zones of the carnivore section will be exclusively reserved for the dangerous animals such as lions, tigers, and leopards.
The first phase with the African Lion Zone, Sri Lanka Elephant Zone and World Zone will be opened tomorrow. The Lions were released to the African Zone yesterday. The animals can move freely in the park.
African, Asian, Australian Zones and a small animal kingdom will be built under the second phase.
A special bus service will be available for the tourists to move around the park. The park consists of all facilities such as animal hospitals, internal road network and vehicle parks. Waste disposal methodologies have been introduced to protect the environment.
The Safari Park constructed at a cost of Rs.1.6 billion is seen as an avenue to attract more tourists to the island and a boom to the tourism industry.
(Government News Portal)