FM challenges former Defence Secretary to declare his assets
Posted by Editor on February 13, 2015 - 8:47 am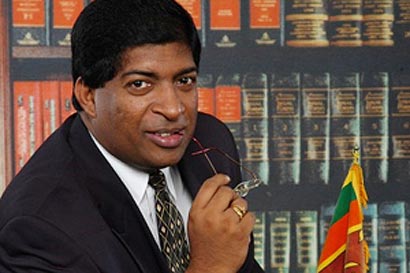 Finance Minister Ravi Karunanayake on Thursday (12) challenged former Defence Secretary Gotabhaya Rajapaksa to submit the latter's statement of assets and liabilities by Friday (13) morning.
Responding to a statement made by Gotabhaya Rajapaksa to a national daily claiming that no one will be able to replace him, Minister Karunanayake said that the former Defence Secretary has overestimated himself.
Quoting the statement given by Gotabhaya Rajapaksa querying about the properties of the minister, Karunanayake said Rajapaksa is asking to look at the properties of the politicians, who were raising questions about his (Rajapaksa's) wealth.
The quote reads; "Look at the number of properties they have acquired. If they are so genuine, they must declare how they managed to purchase the properties they currently own. Look at Mr. Ravi Karunanayake himself. The house in which he resides, in which year did he purchase that house?"
Responding, Minister Karunanayake said that the house under question was built in 1994 and around 140 perches of land was purchased in 1993 even before he entered politics.
"As a Chartered Accountant, I had the financial capacity to build this house".
"I have statements of assets and liabilities for every year since 1993 and these statements have been investigated thrice by the Bribary and Corruption Commission and released back to me. So I am questioning Gotabhaya Rajapaksa whether he can reveal his statements of assets and liabilities by Friday morning," the minister said.
(Government News Portal)
Latest Headlines in Sri Lanka