Fonseka offers to go anywhere to defend Sri Lanka
Posted by Editor on February 29, 2012 - 9:24 am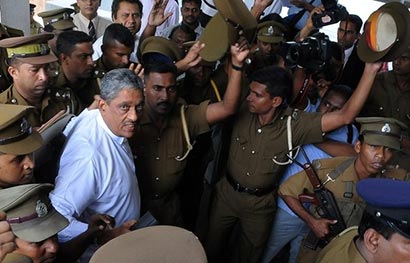 Former Army Commander General Sarath Fonseka yesterday said that the 19th sessions of the UNHRC in Geneva were detrimental to the interests of corrupt government leaders and not those of Sri Lanka.
Addressing the media while he was being taken to the Colombo High Courts to attend the the Hicorp fraud case filed against him, Gen. Fonseka said the current situation in Geneva had been long expected and the government was helpless before the international community.
Fonseka said that he was ready to defend the country at any forum, but the government had sent some incapable persons to Geneva for that purpose.
The Colombo High Court yesterday postponed issuing a verdict on whether to continue with proceedings on the Hicorp fraud case. The verdict was scheduled to be delivered yesterday however it was put off till March 15 by High Court judge Sunil Rajapakse.
Postponing the decision for the second time in the case this year, the judge said that a large number of documents of the court martial needed to be examined.
Sarath Fonseka, his son-in-law Danuna Tilakaratne and Director of HiCorp Pvt. Ltd. Wellington de Hoedt have been indicted with defrauding the Army by purchasing military hardware without adhering to the tender procedure.
Defence has raised an argument that that due to the Court Martial finding Sarath Fonseka guilty on charges related to the Hi-Corp fraud case, the High Court cannot continue the Hicorp case against Gen. Fonseka.
Courtesy: The Island / Pix by Getty Images
Latest Headlines in Sri Lanka