FONSEKA SAYS HE WOULD TAKE THE RESPONSIBILITY OF DEFENDING WAR CRIMES ALLEGED AGAINST ANYBODY FOUGHT IN THE WAR
Posted by Editor on May 26, 2012 - 8:14 am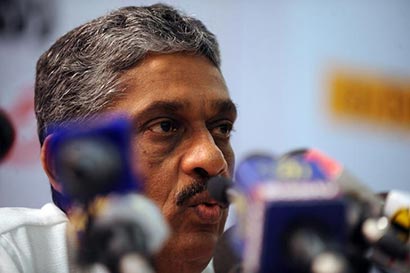 Onlanka News – By Walter Jayawardhana
In an obvious reply to  Minister Wimal Weerawansa, former Army Commander Sarath Fonseka said what  he had told about war crimes was that he was prepared to take  the responsibility as the former Commander of the Army and  defend any  allegation against any body alive or dead who were fighting in the war.
"What I said was that I was prepared to safeguard the good name of my colleagues who were fighting in the war. What could I do if some people cannot understand me, " he said when he visited Meerigama Sasana Wardena Pirivena and some people in the crowd queried about a Minister's statement about the war crimes.
Minister Weerawansa had said Fonseka had ulterior  motives in suggesting  being open to any war crimes inquiry without hiding their  faces.
He said he would try to work for a united opposition. He said he was even prepared to work with the government for the common good of the country like when it is said in the song, "Api Okkoma rajavaru Okkoma wesiyo. But not if one is going to be the king and the rest going to suffer forever."
General Fonseka visited the pirivena along with former minister Karu Jayasuriya.
Together with Mrs. Anoma Fonseka he visited the most Venerable Weveldeniye Medhalankara Maha Nayaka Thero of the Ramanna Nikaya and received his blessings.
Latest Headlines in Sri Lanka