RANIL BLAMES THOSE WHO NEGOTIATED FONSEKA RELEASE FOR HIS LOSS OF CIVIC RIGHTS
Posted by Editor on May 25, 2012 - 3:41 pm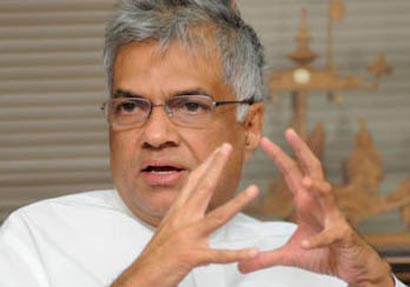 Onlanka News – By Walter Jayawardhana
Blaming that those who negotiated General Fonseka's release from the jail with the President are responsible for the freedom without civic rights he received  Ranil Wickramasinghe said Tiran Alles being a member of parliament should tell the nation the circumstances under which such a sorry state came into being.
UNP and Opposition leader Wickramasinghe was addressing a press conference at the party headquarters Siri Kotha at Kotte.
Tiran Alles, a member of the Democratic National Alliance is the parliamentarian who negotiated the release of General Fonseka from the jail.
Quoting the 7 p.m. and 10 p.m. news broadcasts of the Sirasa Television on May 20 2012  Wickramasinghe said Tiran Alles  had said the President had agreed to almost everything they have requested. What has been granted is the cancellation of the jail term into the future. The question arises, Wickramasinghe, said why did not they request that past conviction also be declared null and void so that his civic rights could come intact.
The nation has been hoodwinked , since the people had been given the impression that General Fonseka would get his full freedom Wickramesinghe said.
Ranil Wickramesinghe said all proceedings against General Fonseka should be declared null and void . Since last December not only the state media but also the privately held media said that Fonseka is going to be freed. He said while the state media or the Dinamina publicly and obviously dancing to the tune of the government the Lankadeepa is dancing to the tune of the government wearing an iPod. He said there is no media freedom in the country today.
Latest Headlines in Sri Lanka