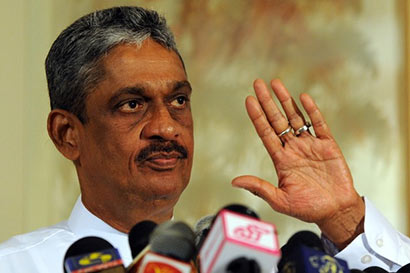 Former army commander Sarath Fonseka says he will contest the next general election having been acquitted of all charges filed against him under the previous government and has been granted complete amnesty by President Maithripala Sirisena.
Fonseka lost his civil rights in 2010, including the right to vote, after a military court found him guilty over allegations raised against him and in 2011 the Supreme Court upheld the decision.
Fonseka was instrumental in leading the army during the final battle against the LTTE which eventually led to the defeat of the rebels in May 2009.
Subsequently in 2010 he resigned from the military and decided to contest the 2010 Presidential elections but he lost. Meanwhile, following his election defeat, Fonseka was arrested on 8 February 2010, and the government announced he will be court-martialed for committing 'military' offences. He was found guilty of corrupt military supply deals and sentenced to three years in prison. After serving more than two years in prison, Fonseka was released on 21 May, 2012.
Fonseka was freed from prison in May 2012 by former President Mahinda Rajapaksa but his civil rights were not restored.
(The Sunday Leader)