Fonseka ungrateful – Tissa Attanayake
Posted by Editor on October 17, 2012 - 11:41 am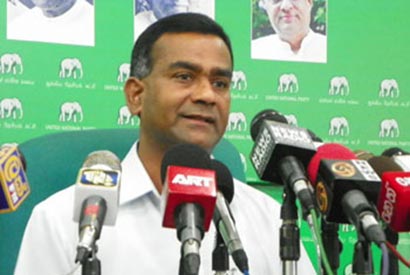 The UNP General Secretary made these comments addressing a Media Conference held at the UNP Headquarters, Sirikotha yesterday.
Attanayake said that Sarath Fonseka addressing a meeting in Kurunegala recently has called upon all patriotic people to attend the joint opposition rally to be held at Hyde Park on the 18th of this month, to make the groundwork to topple the present government. Attanayke pointed out that the JVP is an alliance party of the Democratic National Alliance headed by Sarath Fonseka and he has not invited the JVP to attend this proposed rally and questioned why he cannot invite the JVP for this proposed meeting. He further said that MP Vijitha Herath is the Secretary of the Democratic National Alliance and why he is unable to invite or get down Vijitha Herath and the other JVPers to attend his meeting and why he is interfering in to the internal affairs of the United National Party and attempting to create divisions among the party ranks.
Attanayake explained that the Working Committee of the party has decided that the UNP members should not attend this proposed meeting and emphasized that stern disciplinary action will be taken against any UNP member  holding any of the posts if  he or she attended this proposed rally
Speaking about the sacrifices made by the United National Party on behalf of Sarath Fonseka, Attanayake said that the United National Party made a big sacrifice in the 2010 Presidential Election by allowing Sarath Fonseka to contest the elections without naming a candidate from the party. He said that in the previous Presidential Election the UNP candidate Ranil Wickremasinghe obtained 4.8 million votes and Wickremasinghe made a big sacrifice by allowing Sarath Fonseka to contest.  Attanayake questioned whether this is the gratification being shown by Fonseka to this sacrifice. He also said that Sarath Fonseka entered the election fray with a zero political base.
Source: Government News Portal
Latest Headlines in Sri Lanka