Fukushima radiation: No impact here
Posted by Editor on March 16, 2011 - 6:05 am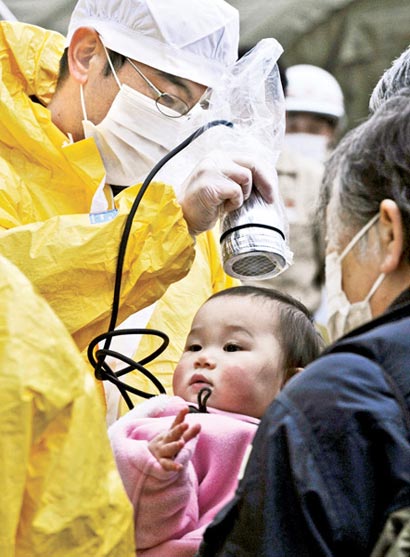 The Sri Lanka Atomic Energy Authority yesterday advised against panic over the alleged threat of radiation following four blasts at a nuclear power plant in Fukushima in Japan due to failure of the cooling system.
Sri Lanka Atomic Energy Authority Chairman Prof Wimaladharma Abeywickrama said that there is no impact on Sri Lanka due to a possible leakage of radiation in the aftermath of blasts that took place at Fukushima nuclear power plant.
"The International Atomic Energy Authority in Vienna has placed Japan's disaster at Level Four which is not so serious as the Chernoby1 nuclear power plant explosion in Russia which was categorized as a Level Seven accident.
"There is no impact on Sri Lanka and the Authority has started monitoring the atmosphere, imported food items and vegetation to ascertain the radiation level as a precautionary measure" he added.
Prof Abeywickrama said that the Japanese Government has only warned the people living within a radius of a 30 km from the nuclear power plant in Fukushima where several blasts occurred in various stages.
Addressing a press conference at the Authority, Prof Abeywickrama added that his Authority is testing samples of milk powder imported by various companies to the country to ensure that they are not contaminated with radio active substances after the Chernobyl accident in the 1980s.
The Authority held a high level meeting with the Met Department and Disaster Management Centre officials to discuss the possible impact on the people in Sri Lanka due to the Fukushima nuclear blast and to provide information about the situation to the people in advance.
He added that the Authority has latest technology and the instruments to check the radiation level of the atmoshpere.
Met Department Director General S H Kariyawasam said the North and East monsoonal rain is gradually weakening with the onset of inter-monsoonal rain.
He added that if the radio active substances were released from the nuclear plant in disaster-hit Japan, it takes more than one month to reach the country and there are many countries in between. "It does not show that the wind is blowing directly from Japan," Kariyawasam added.
Kariyawasam asserted that there is no possibility of such substances being carried into Sri Lanka due to the prevailing wind pattern.
Authority Senior Scientist and Co-ordinator of Emergency Response Planning A Jayalath said that there is a possibility of emission of various types of radio active substances following an accident in nuclear power plants and there would be several reactions too.
He said many countries could face the impact of the emission of radiation from the Fukushima power plant but it depends on several factors. The impact on the particular country due to this blast is decided by the wind pattern and the lifetime of radiation substances, he added. Jayalath added the lifetime of some substances are lesser than one week and the other substances like CCM are active for more than 30 years.
Daily News – Pix by Reuters
Latest Headlines in Sri Lanka