Nepal denies asylum to Fonseka aides
Posted by Editor on March 16, 2011 - 8:35 am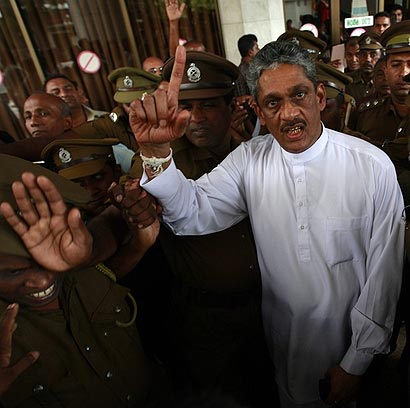 Nepal has refused to grant refugee status to few close associates of former Sri Lankan army chief Sarath Fonseka residing in the country. The Sri Lankans who worked with Fonseka during his presidential campaign are reportedly staying "semi-nderground" in Kathmandu for past few months and seeking asylum in Nepal.
The Nepal government has however turned down the request.
"This information is news to me and this is the first time such a thing has happened. We have written to the foreign ministry to seek their directives," Thosapala Hewage, Sri Lanka's Ambassador to Nepal, told HT.
"We are seeking a secure place to live and express our feeling until a point in future when we can go back and speak out," said Santha Karunaratne, Coordinator of the "Politically Affected Families of Gen. Fonseka in Nepal." "Following the elections, many people had to flee the country when the police started cracking down on those who they thought were anti-establishment."
They are seeking the status of political refugees in Nepal, which however, has been denied by the government. Government officials said they "could be arrested anytime".
A report in Tuesday's The Kathmandu Post stated that the asylum seekers who had fled Sri Lanka following Fonseka's electoral loss and amid fear of retribution by the present regime could be arrested soon.
They thought that Nepal was the 'easiest' place for asylum seekers. Of the 14 who were staying in Nepal reportedly under "unofficial protection" of UNHCR for the last few months, one died of heart attack, one managed to fly to Canada and five other disappeared. Remaining seven are seeking asylum.  UN sources confirmed that the asylum seekers have received unofficial protection but because of their illegal status they would not be called refugees unless Nepal approves so, Kathmandu Post and Hindustan Times reports.
Courtesy: Ada Derana – Pix by Reuters
Latest Headlines in Sri Lanka