Further confusion over A/L results
Posted by Editor on December 28, 2011 - 8:32 am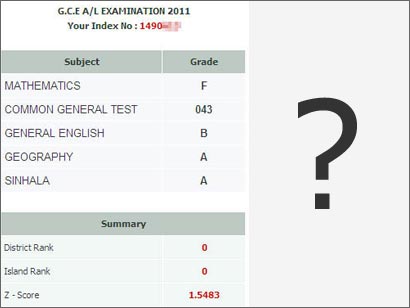 More confusion was reported in the results of the G.C.E. Advanced Level Examinations yesterday with reports emerging that some students received results for some subjects which they did not sit for at the exam.
The Movement for People's Struggle (MPS), a breakaway faction of the JVP, charged that some students who sat for the exam in the Bio-Science stream had received results under a different subject stream.
MPS Coordinator Duminda Nagamuwa who is  also the former convener of the Inter University Students' Federation told a news conference that such confusion had taken place in different parts of the country, in addition to blatant errors in the determination of Z-score rankings of students at national and district levels.
Courtesy: DM Online
Latest Headlines in Sri Lanka