GL slams Navi Pillay's 'prejudiced' statement
Posted by Editor on September 3, 2013 - 10:56 am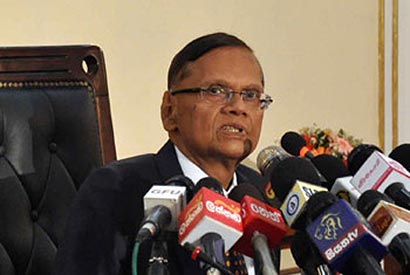 Sri Lanka on Tuesday dismissed UN Human Rights chief Navi Pillay's sharp criticism of the country's human rights record as "prejudiced".
In her statement, Pillay had attacked the Sri Lankan government of becoming increasingly authoritarian and claimed that Sri Lankans who chose to speak to her during her week-long fact-finding mission to the country were harassed and intimidated by the security forces.
"We find the tone and substance of her statement very distressing. It displays a total lack of balance and indicative of prejudice. She has chosen to look at the Sri Lankan situation through jaundiced eyes, which we find objectionable," External Affairs Minister, Prof. G L Peiris, told reporters in London today.
"The government and people of Sri Lanka have had just four years to recover from the conflict and whatever was capable of being done in the short period has been done. Other issues will take longer. Given the magnitude of the situation, one has to be fair. The conclusions of the UN commissioner are not in keeping with the facts on the ground," he added.
Pillay is the most senior UN official to visit the northern parts of Sri Lanka since Secretary General Ban Ki-moon in 2009.
She had said that her job was to ensure that the government was conforming to human rights standards agreed by all nations.
While she admitted being allowed access to all parts of the previously war-torn region, she expressed concern at the intimidation of those who chose to speak up against the government.
"We have asked for details of these incidents so that we can investigate them. The government has no plans of penalising anyone who spoke to Ms Pillay; that was the whole idea when we provided her full access," said Peiris, who was also keen to highlight the importance of Sri Lanka's role as the host of the upcoming Commonwealth Heads of Government Meeting (CHOGM) in Colombo in November.
"The theme of the summit is economic growth with social equity and we are keen for all heads of government to come and see the reality of contemporary Sri Lanka for themselves," he was quoted as saying by PTI.
Pillay, a South African of Indian-Tamil origin, was recently on a week-long visit to Sri Lanka to review its progress in investigating alleged abuses during the long civil war between government troops and separatist LTTE rebels that ended four years ago.
Three Sri Lankan ministers had questioned the impartiality of Pillay, accusing her of supporting ethnic Tamil separatists because of her own Tamil origins, which she termed as "deeply offensive".
(Courtesy: Ada Derana)
Latest Headlines in Sri Lanka